Reading and Writing Course Spells Success for College-Bound Seniors
CSUF Professor Helps Teachers Better Prepare Students
September 17, 2007
By Debra Cano Ramos
"What does it take to make it in college?"
Chris Street, associate professor of secondary education, recently posed that question to regional high school English teachers.
Their answer: strengthen high school seniors' critical reading and expository writing skills — before they get to college.
To assist teachers to do that, Street has been presenting "Expository Reading and Writing," a California State University course that helps high school teachers prepare 11th- and 12th-grade students for the literacy demands of higher education.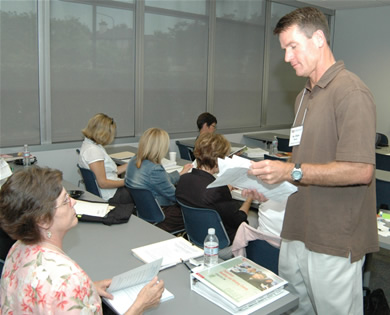 Chris Street, associate professor of secondary education, teaches a workshop for high school English teachers to help them strengthen their students' critical reading and expository writing skills.
"Through this course, teachers learn proven strategies to help high school students read and write expository text, which is what they'll be asked to do in college," Street explained. "While not intended as an honors or remedial course, it does help to bridge the gap between high school and college."

Created in 2004 by CSU faculty in partnership with high school teachers and administrators, the course serves as a component of the CSU's Early Assessment Program (EAP), which tests students' English and math proficiency in the 11th grade. The course focuses on critical reading and analytical writing assignments involving essays and other texts.
Cal State Fullerton has partnered with the Orange County Department of Education to present the course locally at no cost to teachers or school districts. More than 100 Orange County instructors have taken part; statewide, more than 2,200 have attended workshops. Curriculum is provided to teachers, who can integrate it into their curriculum or use as an independent course.
"We're seeing that some students need the extra help and this program is giving high school teachers the tools to meet those demands," said Pam Tupy, Orange County Department of Education program specialist.
To evaluate course effectiveness and to make improvements, the CSU was awarded a $600,000, three-year federal Fund for the Improvement of Postsecondary Education (FIPSE) grant, said Nancy Brynelson, co-director of the CSU Center for the Advancement of Reading. Funding also will be used to garner additional school district support, as well as to train students in CSU teacher preparation programs to use the course, Brynelson added. The course satisfies CSU and University of California college entrance requirements.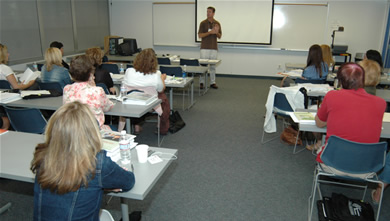 Twenty-five high school English teachers learn how to better prepare their students for college at a recent workshop taught by Chris Street, associate professor of secondary education.
Street is a member of the FIPSE research team that will focus on determining how well the course meets the needs of high school teachers and students in the state. 
"As a professional development leader for the course, Dr. Street knows the curriculum and has been working with the teachers. He's a valuable asset to the research project and we're pleased to have him working with us," Brynelson said.
This year, Street is observing and interviewing teachers to find out what's working and what changes need to be made. "We want to find out if this curriculum is making a difference," said Street.
So far, the curriculum has been well received. "I've yet to meet a teacher who hasn't raved about the program," he said. "Teachers using this curriculum know that their students are going to be well prepared for college English."
Jan Mintz, who teaches at Irvine's Arnold O. Beckman High School and participated in the summer professional development session, said she is using the course this fall and expects it to have a positive impact on her students. "As a teacher, it's all about finding effective ways to do a better job teaching our students. This course will help students to read and write critically so they can be successful in college — and that's the bottom line for me."