Creativity in the Classroom
Two-Day Training Program Focuses on Arts-Infused Curriculum
September 23, 2008
By Debra Cano Ramos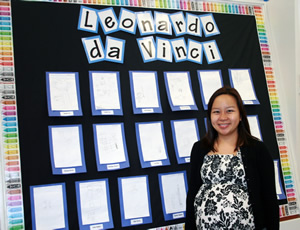 Kristen Campos, a first-grade teacher at Fern Drive Elementary School, stands before her students' pencil sketches inpired by Leonardo da Vinci. Photo by Mimi Ko Cruz
Kristen Campos painted a gecko using vivid colors, textures and detail to recreate the tropical-looking lizard. Campos is not an artist, but a first grade teacher at Fern Drive Elementary School in Fullerton.
Campos was among 20 Orange County teachers and seven Cal State Fullerton faculty members who participated in last month's "Visual Art and California State Standards Institute" hosted by the university's College of Education.
The local educators' lesson: to learn how to integrate visual art into K-12 curricular areas such as language arts, science and social studies.
By observing a picture of an animal or insect, and having young students draw what they see, Campos said it incorporates a lesson in science — and gives students a chance to be creative and more successful academically.
"I really believe that kids learn differently and if they learn through art, they seem to remember better if they draw it, plus they get real invested in the lesson and are proud of their work," she said.
Teachers from two other Fullerton schools, Acacia Elementary and Woodcrest Elementary,and Fanning Elementary in Brea, along with educators from the Orange County Department of Education, participated in the professional development program to gain the skills they need to develop creativity in their students.
"My first goal was to engage teachers in the creative process in order for them to discover they do have right-brained, visual art abilities that just needed to be awakened," said Ginger Geftakys, lecturer of elementary and bilingual education and co-director of the visual art institute. "My second goal was to train the educators in specific drawing and painting processes and show them how to integrate these processes and accompanying projects with themes in the core curriculum subjects."
Importance of Art Curriculum
California has established educational standards in all K-12 curricular areas, including the arts, said Teresa Crawford, professor of elementary and bilingual education and institute co-director.
"Educators across the country have acknowledged that it is vital for our children to be fluent in the arts in order to broaden and enrich their personal lives, as well as be prepared to excel in the 21st-century workplace," Crawford said.
The Boeing Co., which is supporting the visual art institute, believes there is a vital need to inspire all young learners to be creative and critical thinkers for the good of the economic future of the country, explained Sarah Murr of Boeing's Global Corporate Citizenship Department.
"Boeing's support of arts education is all part of a systemic approach of getting arts instruction in the classroom and to foster students' creativity," Murr said. "It's important that we educate the workforce of the future. We need people who have creative minds to build the future's airplanes and automobiles or design new medical diagnostic equipment."
After the two-day training, the elementary educators took the lessons they learned and shared them with their colleagues and students. They also will serve as master teachers in the classrooms of student teachers who have been prepared in this innovative "arts infused" approach by the university's College of Education faculty members who attended the training.
The university professors will be the lead instructors in methods classes for fall 2008 and spring 2009 teacher preparation students. The professors will prepare their students to implement this approach within units of state standards-base studies in language arts, science, math and social studies. The goal is that these future teachers will use these skills in their student teaching, and ultimately, when they land jobs in the classrooms.
"Art is a gateway to educating the 'whole child.' As educators, we need to tap into students' emotions and creativity as well as equip teachers with the skills to explore ways to expand students' creative and critical thinking skills, which are not just desirable, but essential to 21st-century learning," said Karen Ivers, chair and professor of elementary and bilingual education.
As a result of the training of these 27 educators, more than 50 student teachers will be implementing this methodology during the 2008-09 school year, directly impacting about 1,800 elementary-age students they will be instructing, Geftakys said. Additionally, elementary teachers who attended the institute have committed to teach the art processes to colleagues and lend support to them as needed to carry out the projects, which will reach more than 100 additional teachers at school sites in Fullerton and Brea.
Campos plans to teach and encourage her colleagues to use visual arts as a means to teach critical academic subjects: "Art in the classroom is easily neglected due to budget constraints, and often teachers are intimidated and uncomfortable using art. I plan to show them that they can easily incorporate art in the classroom."
"The core need that must be addressed is how to infuse arts instruction into basic curricular content areas in order to mitigate these time and budgetary impediments so that creative arts are an inherent part of each child's educational experience," said Geftakys, who, with Crawford, are co-developers of the college's Teachers and Students as Artists Program.
The program, conducted at school sites, is designed to provide teachers with the knowledge and skills necessary to link visual arts into curriculum. The visual art institute is an expansion of this effort, Geftakys said.
New Center for Creativity Planned
College of Education faculty members are working closely with the Orange County Department of Education and its Arts Advantage Program to develop arts programming in K-12 schools. This "arts-infused curriculum" is one of several programs the College of Education is developing under the umbrella of the college's proposed new Center for Creativity and Critical Thinking in Education.
The center will house a number of pioneering programs that will lead to preparation of new teachers who are adept at engaging and inspiring all learners to be creative and critical thinkers, said Claire Cavallaro, dean of the College of Education.
Additionally, leaders of the Arts Advantage Program will be working closely with the college's faculty members as it develops its strategic plan for the center to ensure that the goals and objectives of both projects are complementary of one another, Cavallaro said.
The center will be a catalyst and focal point for faculty and student research, pre- and in-service teacher training, and a resource for educators in preschools through high schools in efforts to develop and disseminate effective models for promoting creativity and critical thinking.
"We envision a national demonstration, training and research center where the focus will be on educational approaches that infuse the arts, science and technology as central components of an integrated curriculum," Cavallaro said.
The center plans to offer workshops, such as other visual art professional development programs; technical assistance to practicing teachers, student teachers and teacher educators; host a Web site that will enable teachers to network and share their innovative curriculum and pedagogy; host exhibitions and conferences to promote the center's goals; sponsor an online journal; and, engage in other relevant school and community collaborations.
"This broad vision of the center is that it will address the need to develop 21st-century competencies — those related to creativity, critical thinking, decision making and collaboration," Cavallaro explained.
"Not only is this an acknowledged need with regard to the 'inner well being' of our young people, but massive changes brought about by technological advances and globalization make it essential that the education community rethinks the manner in which we prepare 21st-century learners for a vastly changed world and workplace."
More Information:
Teresa Crawford, Director
SchoolsFirst Center for Creativity and Critical Thinking in Schools
College of Education, CSU Fullerton
657-278-8668
tcrawford@fullerton.edu