Deploying Warmth
Communications Students Mark Veterans Day Making Blankets for Those Serving in Afghanistan and Iraq
November 10, 2009
By Mimi Ko Cruz
A class project has turned six communications majors into blanket makers for 500 unknown soldiers.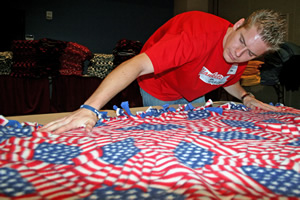 Hans Holborn inspects his handy work on one of 500 blankets being sent to soldiers in Afghanistan. Photo by Mimi Ko Cruz
They're marking this Veteran's Day completing the soft blankets with the help of community volunteers, including members of Cal State Fullerton's Phi Kappa Tau fraternity, Villa Park High School students and others.
"We are making blankets to help the nonprofit Soldiers' Angels," said CSUF senior Alison Scherer, one of the six students, who launched the project under the name Titan PR. "It is a nice gift to send overseas to keep our soldiers warm at night and to let them know that there are people back home who are grateful for all that they do. It is to let them know that they are thought of daily. It is to let them know that there are strangers out there who care about them."
Soldiers' Angels is an organization made up of volunteers who make and send care packages to soldiers fighting overseas. Based in Nevada, the 6-year-old group has: sent hundreds of thousands of care packages and letters to deployed service members; supplied the wounded with first-aid packs at the combat support hospitals in Iraq and Afghanistan and the major military hospital in Germany, as well as provided care and comfort to those in stateside military and Veterans Administration facilities; provided emergency aid to military families in need; partnered with the Department of Defense to provide voice-controlled/adaptive laptops to nearly 3,000 severely-wounded servicemembers, as well as other technology that supports rehabilitation; provided flights to soldiers on leave or in emergency situations, and to their families; provided armored blankets to give personnel extra protection in their vehicles; and help honor those killed serving in America's military.
Titan PR's members are seniors: Scherer, 23, of Claremont; Darren Chadra, 27, of Laguna Niguel; Hans Holborn, 25, of Fullerton; Jordan Hood, 25, of Long Beach; Andrea Martyn, 26, of Whittier; and Toni Ann Schifano, 22, of La Mirada. They have friends and family members who have served or are serving in the military.
Their plush blankets have fringe they cut and tied together. Each blanket is accompanied by a card that gives Titan PR's e-mail address, TitanPR6@gmail.com.
"This way, if the soldiers would like to write to us to let us know they received a blanket, we can forward the message to everyone who came out to help us make blankets," Scherer said.
She and her fellow Titan PR team members are enrolled in a public relations management course, taught by communications lecturer Dennis J. Gaschen. They created the blanket-making project for class credit.
"This is a course that all public relations students must take to graduate," Scherer said. "The purpose is to work with a nonprofit organization and help move the needle in some way, whether it be by raising awareness, raising attendance, raising money, putting on an event, etc. For our cause, we are doing all of these."
The residual effect: soldiers in Iraq and Afghanistan get soft handmade blankets to warm them in the cold.
"We think they will appreciate getting our blankets" Scherer said. "It will let them know that there are people back home thinking of them and thanking them for their service. Anyone can go out and buy blankets, but it is more special when it is hand made."
Related Story: