Knitting Warmth
Campus Group Stitches and Donates Scarves, Caps and Blankets for Troops, Children, Homeless Veterans and Prisoners
November 18, 2008
By Mimi Ko Cruz
For eight years, a group of volunteers has been gathering at noon on Thursdays to knit and crochet thousands of blankets, scarves and caps for needy children in Orange County.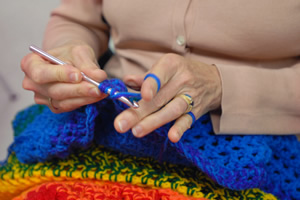 Today, U.S. soldiers in Iraq, Iraqi children, homeless veterans in Riverside and prisoners in Colorado also are beneficiaries of the volunteers' handy work.
Members of Blankets of Love make the blankets, scarves and caps year-round and donate their creations monthly.
In addition to their handmade goods, the group collects toiletries, hard candy, notebooks, pens, toys, inflatable balls and yarn.
"It's getting cold in Iraq and the troops like getting scarves, but only in the military colors — beige, light gray or white," said Sue Winston, president of Blankets of Love and a staff member in the Music Department. "We ask the soldiers what they want and they say they want things they can give to the poor Iraqi children who have nothing. That's why we're also sending hard candy, colorful scarves, paper, glitter pens and toys."
She said she gets great gratification from knowing the items are reaching the children in Iraq.
"We really have so much here," Winston said. "It makes you feel so good to know that you're helping the children who have to flee their homes all the time. Some have lost family members and are just so grateful for any gifts from the soldiers."
Winston delivers the goods to St. Michael's Episcopal Church in Riverside and the church ships them to the troops. The church also gives blankets and toiletries to the homeless veterans who live in a ditch nearby.
The original beneficiaries of Blankets of Love's work, residents of Olive Crest, a Santa Ana home for abused, neglected and abandoned children, still receive donations. But, as the group expands, so do the donations and recipients.
A prisoner at the Sterling Correctional Facility in Colorado taught himself to crochet and now has a crocheting group of fellow inmates who also benefit from Blankets of Love donations.
"People give us yarn and crochet hooks and we send them to the prisoners," Winston said. "We also try to send patterns because they like making different projects."
To join Blankets of Love, show up any Thursday in Room 216 of the Clayes Performing Arts Center. Donations can be dropped off at Winston's office in the Music Department, Room 220E.
RELATED STORY: