The Best and Brightest
Business Dean Is Among Hot 25 of Orange County
November 17, 2009
By Pamela McLaren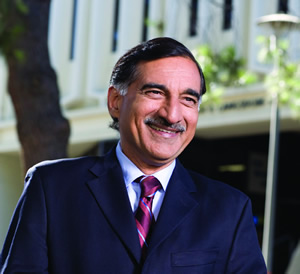 Anil Puri
Anil Puri, dean of Mihaylo College of Business and Economics, was among OC Metro magazine's picks for the "best and brightest" business professionals in the region.
Puri was included in the 20th anniversary "Hot 25 Platinum" edition published this month, and he was honored during a Nov. 10 reception for those named.
The honor recognized Puri's achievements in bringing Mihaylo Hall to reality and his record in presenting annual economic forecasts on the county and region. Dean since 1999 — he was acting dean for a year prior — Puri has seen the nationally accredited program grow from a school to a college with the largest undergraduate business program in the state.
Mihaylo Hall, named after entrepreneur Steven G. Mihaylo, an alumnus of the business college who has donated approximately $35 million to his alma mater, opened in 2008. The five-story, 195,000-square-foot facility houses classrooms and computer labs, as well as a 250-seat tiered lecture hall and a state-of-the art interactive facility designed for nurturing collaboration and engagement.
For 15 years, the noted economist has presented the annual economic forecast in October and a midyear review of the forecast in April — both sponsored by Mihaylo College and the Orange County Business Council.
In addition to serving as dean, Puri is co-director of the Institute for Economic and Environmental Studies, which has performed economic and demographic research for such organizations as the Orange County Transportation Agency and South Coast Air Quality Management District. He joined the university in 1977 after earning his doctorate in economics from the University of Minnesota.