Cautiously Optimistic
Annual Economic Forecast Makes 'A Case for Recovery'
November 3, 2009
By Pamela McLaren
A lot can happen in a year.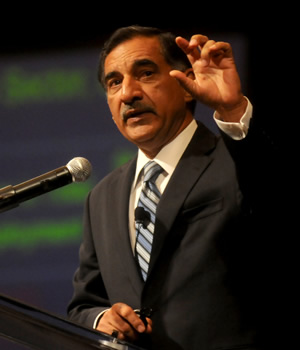 Anil K. Puri
Cal State Fullerton economists Anil K. Puri and Mira Farka advised cautious optimism when it comes to the economic future during the Oct. 27 Economic Forecast Conference, sponsored by Mihyalo College of Business and Economics and the Orange County Business Council.
Last year, people experienced both fear and uncertainty, both institutionally and as individuals, Puri said, kicking off the presentation at the Hyatt Regency Irvine. The dean of Mihaylo College of Business and Economics reiterated what he said last year: the economy, nationally and globally, has been shaken to its core.
Now, fear seems to be fading, even through uncertainty continues, Puri explained.
But, despite the 2008-09 recession having the largest economic activity decline of any postwar recession — and being the longest postwar recession at 16 months — "recent economic data indicate that the worst of this recession may well be behind us," he said.
"A case for recovery is at hand," Puri said, citing how housing prices seem to be stabilizing, the stock market and personal spending has shown some increases. Banks, too, he noted, have begun the lending process once again, "but no where near normal."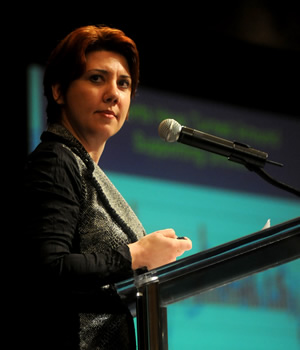 Mira Farka
"Thank goodness last year is behind us," said Farka, assistant professor of economics and a research associate in the Institute of Economic and Environmental Studies. She added that the economy is coming back faster "but bumpier than expected."
Two forces are aiding the recovery, they noted.
Negative forces have moved from bad to not-so-bad in:
investments
inventories
exports
housing
consumer spending
labor market
While positive forces have taken hold in:
industrial production
sales
financial sector
global economy
government spending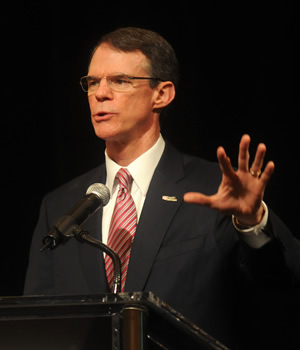 Richard Davis
Both economists noted that the Nike Swoosh — the description they used to describe the economic situation last year — is still accurate, although the tail of the swoosh is more curvy, more bumpy, than they had anticipated in 2008.
The recovery, both noted, will lead to a 'new normal,' where not all the changes brought about by the financial crisis will be reversed. Not all manufacturing jobs that were lost during the recession will return, the banking system will be transformed and consumer behavior will be characterized by more savings and less debt.
"Three years after the recession, the level of output will still be 10 percent below where it could have been had the crisis never happened," Farka said.
"We anticipate a U.S. GDP growth of -2.5 percent in 2009 and +3.3 percent in 2010," said Puri. "Consumption growth will continue to remain sluggish as high unemployment, deleveraging and wealth erosion restrain household spending. Job losses are expected to wane, with payroll numbers stabilizing by the end of this year and early in 2010. The unemployment rate is expected to average around 9.9 percent in the fourth quarter of 2009 and reach a peak of 10.5 percent in mid-2010."
For Orange County and Southern California, as in the nation, said Puri, "there are preliminary signs indicating the end of major negative trends, such as in the housing and finance sectors. The slide in economic activity is likely over, but any significant growth, especially in employment, is some time away, most likely in the second half of 2010 or early 2011.
"We expect a deceleration in the pace of job losses into early 2010 and a small improvement in the second half," he continued "Orange County is projected to lose around 58,300 jobs or -3.9 percent in 2009, post a modest gain of 9,900 (or 0.6 percent) in 2010, and 24,200 (or 1.7 percent) in 2011. The unemployment rate is expected to decline to 8 percent in 2010 and 6.2 percent in 2011."
The Economic Forecast Report, prepared by the college's Institute for Economic and Environmental Studies under Puri's direction, contains information on the global economy and national forecasts.
To hear an interview with Farka, visit the California Commerce website.
Bullish on Banking
Richard Davis, U.S. Bancorp CEO and a Cal State Fullerton business alumnus, was guest speaker at the conference.
When he spoke at the conference three years ago,"I could have said that banking was strong, healthy and vibrant — and no one would have disagreed with me," he said. "Now, I don't know if you would agree with that sentiment but these characteristics are still important.
"Banks are central to the economy and it is the banks that will help us out of this recovery," stressed Davis.
"We don't build it, eat it or move it, but we're behind everyone who does," he noted. "Clearly, we must be part of the economic solution … we have a role in bringing this country to greatness."
His powerpoint presentation is available for download.