Awarding Talent
Badillo Named a "Woman Making a Difference" for Her Work With Talent Search
April 7, 2009
By Mimi Ko Cruz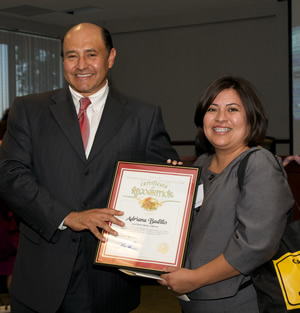 Adriana A Badillo, right, receives her "Woman Making a Difference" award from Sen. Lou Correa. Photo by Stephen Weissbart
Adriana A. Badillo, director of Cal State Fullerton's Talent Search Program, has been honored as a "Woman Making a Difference" by Sen. Lou Correa (D-Santa Ana).
The Anaheim resident was recognized for her leadership in the university program that aims to increase the number of youths from disadvantaged backgrounds who complete high school to enroll in higher education.
"The recognition is for the entire Talent Search team," Badillo said. "Everyone's efforts make it possible, on a day to day basis, to motivate and encourage program participants to pursue a postsecondary education. … This award not only recognizes Talent Search efforts, but the investment of CSUF in its local community."
Badillo earned a bachelor's degree in economics in 2002 and a master's degree in public administration in 2005 from Cal State Fullerton.
In his award nomination letter for Badillo, Mark Kamimura-Jimenez, director of educational partnerships, wrote: "Adriana Badillo is a homegrown educator who is an inspiration to many in our community. Since her days as an undergraduate, Adriana has worked diligently to increase the post-secondary opportunities for the youth in her community. I have no doubt that many students would not have achieved their college dreams without her hard work.
"Adriana's dedication to the needs of low-income and potential first-generation college students has guided her career," Kamimura-Jimenez noted. "In her role at CSUF, Adriana is constantly working to build partnerships that create opportunities for students. … Adriana dedicates her time beyond the scope of her position to develop bilingual sessions for parents to meet educational needs of the Latino community. She has the gift of seeing the potential in others and works to help them develop their abilities."
Badillo was one of 100 women honored March 13 by Correa. Among the 99 honorees also named a "Woman Making a Difference" were Cal State Fullerton alumnae Pamela C. Keller, Fullerton's mayor pro tem; Santa Ana City Councilwoman Michelle Martinez; and Lucy Santana-Ornelas, executive director of Girls, Inc. Actress Kieu Chinh, best known for her role in "The Joy Luck Club," was named "2009 Woman of the Year" for her work as co-founder of the Vietnam Children's Fund.