Building Bonds
Partnerships Help Improve Community Health
March 10, 2009
By Mimi Ko Cruz
The number of people suffering from chronic pain, becoming obese and being diagnosed with diabetes, heart disease, cancer and other health-related problems is on the rise throughout the nation. The statistics, for faculty members behind Cal State Fullerton's new Health Promotion Research Institute, are alarming.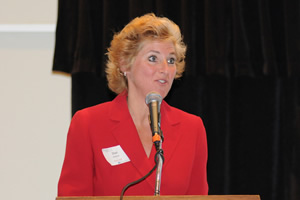 Shari McMahan. Photo by Kelly Lacefield
In an effort to intervene, the institute hosted a Feb. 27 public forum bringing up the issues involved.
"The goal was to start a dialogue between community members and university faculty about ways to collaborate and improve the health of our community," said Shari McMahan, chair and professor of health science, director of the university's Center for the Promotion of Healthy Lifestyles and Obesity Prevention and the institute's acting director.
The forum highlighted ways the university already collaborates with community agencies and discussion on ways to expand.
Access Issues
Jacqueline H. Tran, program manager of the Orange County Asian Pacific Islander Community Alliance, and Sora Tanjasiri, professor of health science and director of the university's Center for Cancer Disparities Research, discussed promoting access to health care services for Pacific Islander and Southeast Asian women.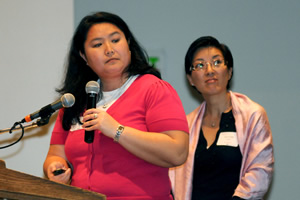 Jacqueline H. Tran, left, and Sora Tanjasiri. Photo by Kelly Lacefield
Death from breast and cervical cancer is increasing for Asian and Pacific Islanders, they point out, in large part because these groups have the lowest screening rates in the nation.
In 1999, the Orange County Asian Pacific Islander Community Alliance approached university researchers to study the feasibility of developing a community-based network. With a couple of grants, the network was launched. Results include three community reports and various studies regarding cancer survivor support and increasing screening.
Tanjasiri said such research has influenced programs and services throughout the Pacific Islander and Southeast Asian community. Last year, for example:
100,643 people were reached through large community events
5,444 people received information and support through small group activities
two communities have established cancer survivor support groups
746 people were navigated through breast and cervical health services
337 women received Pap tests
263 women received mammograms
137 women received clinical breast exams
95 women received other services, such as breast and uterine ultrasounds and biopsies, Human Papillomavirus vaccinations, breast and vulva cancer diagnosis, and support and general health screenings
Fighting Fibromyalgia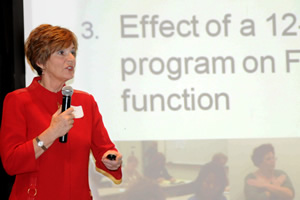 C. Jessie Jones. Photo by Kelly Lacefield
C. Jessie Jones, professor of health science and director of Cal State Fullerton's Fibromyalgia Research and Education Center, and Lynne Kennedy Matallana, founder and president of the National Fibromyalgia Association and president of Cause Marketing, explained their partnership.
Both women have fibromyalgia and spent years seeing countless doctors until they were diagnosed.
"Recent research is helping us understand fibromyalgia," Matallana said, adding that the chronic pain illness characterized by widespread musculoskeletal aches, stiffness, soft tissue tenderness, fatigue, headaches and sleep disturbances.
More than 70 million people in the U.S. have chronic pain and that is the leading cause of disability, said Jones. It costs an estimated $15.9 billion in direct and indirect medical care annually.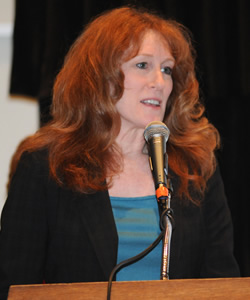 Lynne Kennedy Matallana. Photo by Kelly Lacefield
Jones and the National Fibromyalgia Association teamed up in 2004, founding the Fibromyalgia Research and Education Center and securing funding for research and education projects. Results from various studies include the development of a specialized exercise program for those with fibromyalgia.
"We are finding really incredible information to keep people with fibromyalgia healthy and functioning in society," Jones said.
Matallana added that the two organizations have worked together on advocacy efforts and were successful in getting the California legislature to create a fibromyalgia task force and produce the first Fibromyalgia Awareness Walk in Orange County.
Through research, "we're bringing more legitimacy to this condition," Jones said. Other results include:
improved health care provider attitudes toward patients with fibromyalgia
increased interest in treating those with fibromyalgia
creation of assessment tools to identify physical impairments and determine efficacy of interventions
identification of interventions that can improve quality of life, reduce disability and lower health care costs
Healthy Neighborhood Project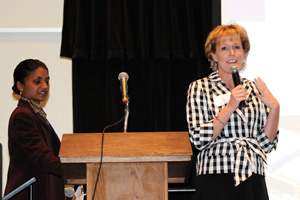 Michele Mouttapa, left, and Pamela C. Keller. Photo by Kelly Lacefield
Through a recently formed collaboration, Michele Mouttapa, assistant professor of health science, and Fullerton Mayor Pro Tem Pamela C. Keller, executive director of the Fullerton Collaborative, launched the Fullerton Healthy Neighborhood Project.
The project addresses childhood obesity, which "disproportionately impacts low-income communities," Keller said.
It focuses on making policy changes aimed at reducing childhood obesity rates in four low-income Fullerton neighborhoods — Maple, Garnet, West Fullerton and Valencia.
Keller said each neighborhood has a focus group made up of parents and their children and each has been asked about neighborhood concerns that need to be addressed at a policy level. Topping the list of concerns: gang activity, too much access to sodas, not enough low-cost sporting activities and a lack of nutrition classes.
Partners include St. Jude Medical Center, Orange County Congregation Community Organization, Solidarity and Community Action Partnership of Orange County.
The plan is to kick off a community campaign with volunteers conducting surveys on nutrition knowledge and handing out information that can be used as a guide for healthy food choices.
"We're working with the community at a grass roots level," Mouttapa said. "We're asking the community what the problems are and how they want to attack them. We're developing a program from there. … I'm chronicling what's happening and when policy changes happen, I'm documenting all the steps involved, so that later on, the strategies can be replicated elsewhere."
Making a Difference
Jeannie Kim-Han, director of the university's Center for Internships and Community Engagement, said the university-community partnerships benefit the university and the community at large.
"We're really committed to the community in ways that have been unprecedented," she said. "This is a significant point in university history. I'm so excited about and so grateful for these partnerships and the possibilities for the future."
Institute Mission
The Health Promotion Research Institute was created as a result of a $224,097 UniHealth Foundation grant. Its mission is to enable public health research, promotion, education, policy and advocacy in the community, to engage community partners and to facilitate research-based public health services.
The institute serves as the umbrella organization for the College of Health and Human Development's Center for Cancer Disparities Research, Fibromyalgia Research and Education Center, Center for the Promotion of Healthy Lifestyles and Obesity Prevention and the Center for Successful Aging. Institute leaders plan to develop health education programs, disseminate the findings of the research centers, create new research centers and provide programs and services, among other projects.
Related Stories: