Reba to Headline Front & Center
Grammy Award Winner Stars at Feb. 28 Cal State Fullerton Event
December 23, 2008
By Mimi Ko Cruz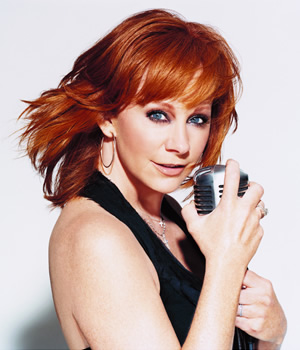 Reba McEntire
Reba McEntire will headline Front & Center, Cal State Fullerton's annual benefit concert, Feb. 28 at the Honda Center in Anaheim.
The award-winning performer is one of the country's most successful female recording artists. She has sold more than 55 million albums worldwide and 33 of her songs have been No. 1 hits.
McEntire is the winner of two Grammy Awards, seven Country Music Association Awards, nine People's Choice Awards, 12 Academy of Country Music Awards and 15 American Music Awards. She also is an acclaimed film, television and Broadway actress whose television comedy, "Reba," was a top-rated sitcom for six seasons. In addition, McEntire is an author and designer of the REBA brand, which includes clothing, footwear, home collections and other products.
Earlier this year, McEntire released "50 Greatest Hits." The album includes hits such as her first No. 1 single, "Can't Even Get the Blues," as well as "How Blue," "Only in My Mind," "Walk On," "You Lie" and "Starting Over Again."
In 2007, McEntire's "Duets" album debuted at No. 1 on the pop and country album charts. In it, she pairs with 11 other singers, including Justin Timberlake, Kelly Clarkson, Don Henley, Carole King and Kenny Chesney.
Her albums include "#1's," "Room to Breathe," "So Good Together," "If You See Him," "Starting Over," "For My Broken Heart" and scores of others.
Before McEntire takes the stage at Front & Center, Cal State Fullerton's theater and dance students will perform and First American Corp. will be announced as this year's Orange County Titan Award recipient. National Hot Rod Association Funny Car driver and Cal State Fullerton alumna Ashley Force Hood will serve as the night's master of ceremonies.
Before the 8 p.m. concert begins, there will be a black tie dinner for guests seated on the arena floor. For more information, visit www.fullerton.edu/frontandcenter.
Proceeds from the event benefit the university's President's Scholars, a program that awards a distinguished group of academically accomplished students with full scholarships to attend CSUF.
Related Stories:
University Welcomes Incoming Class of President's Scholars