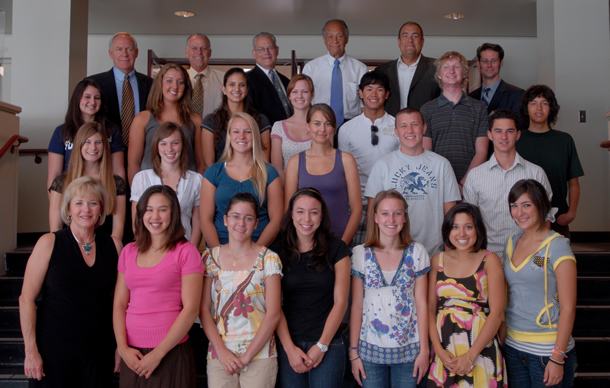 The 2008 class of President Scholars pose for a photo after being presented with new Dell laptops at Cal State Fullerton Thursday, Aug. 21. Photo by Kelly Lacefield
University Welcomes Incoming Class of President's Scholars
Top High School Graduates Begin Fall Classes at Cal State Fullerton
Twenty-four of the region's best-and-brightest high school graduates are beginning their college years at Cal State Fullerton as President's Scholars - the most prestigious status the university accords to incoming students.
Established in 1979, the President's Scholars program recognizes and attracts a distinguished group of academically accomplished students. Theseincoming freshmen receive a full scholarship that covers all student fees, the use a laptop computer, plus a $750 annual stipend for textbooks for up to four years, so long as they maintain full-time enrollment and aminimum 3.5 GPA, plus contribute to university and community activities.
In addition, all scholars receive priority registration and complimentary parking permits. Theyare eligible for admission to the university Honors Program and consideration for on-campus housing. They also have opportunities to attend special seminars and meet periodically with the university president.
Scholars are selected on the basis of superior academic and extracurricular achievement in high school.
The incoming President's Scholars, by cities of residence and major, are:
Arcadia:

Eleni Christodulelis, Spanish

Brea:

Mariann Howland, liberal studies

Campbell:

Michelle Morton, liberal studies

Cerritos:

Tiffany Hoang, prebusiness

Fontana:

Brittany Pergl, kinesiology

Fullerton:

Charles Mordaunt, American studies
Aaron Ninokawa, biological science

Hanford:

Conrad Hawk, prebusiness

Laguna Niguel:

Harry Meussner III, prebusiness

Littlerock:

Jeanette Chadwick, theatre arts

Oak Hills:

Patrick Fitzpatrick, mechanical engineering

Oceanside:

Kaleah King, communications-photocommunications

Pixley:

Angelica Torrez, prebusiness

Placentia:

Ashley Davis, undeclared

Porterville:

Brittany Roper, biological science

Santa Clarita:

Mitchell Weber, prebusiness
Melanie Yamabe, prebusiness

Stockton:

Laurent Punzalan, prebusiness

Tehachapi:

Jocelyn Lambeth, undeclared

Victorville:

Rikki Tremblay, undeclared

Walnut:

Sarah Elattar, biological science

Whittier:

Eden Ellis, undeclared
Melissa Wooldridge, nursing

Yorba Linda:

Cara Beth Mohlman, liberal studies