Alumna Wins HEEF Award
Math Teacher Recognized With Apple of Gold
October 28, 2008
By Mimi Ko Cruz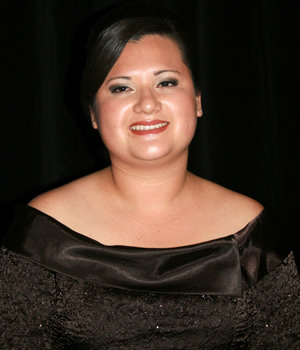 Alumna Herminia Rodriguez is the recipient of an Orange County Hispanic Education Endowment Fund Apple of Gold Award for Most Promising Young Teacher. Photo by Mimi Ko Cruz
Herminia Rodriguez, a high school math teacher and Cal State Fullerton alumna, has earned an Apple of Gold Award for Most Promising Young Teacher from the Orange County Hispanic Education Endowment Fund.
HEEF officials lauded Rodriguez for "being a model of personal and professional accomplishment for all of Orange County" at an Oct. 17 awards dinner at the Anaheim Hilton.
Rodriguez, who received her bachelor's in mathematics in 2003, teaches at Valley High School in Santa Ana. She earned a teaching credential in 2005 and a master's degree in mathematics in 2007 at Chapman University.
Born in Mexico, Rodriguez emigrated to the U.S. in 1990 when she was 10. She and her family settled in Santa Ana, where she graduated from Century High School with a 3.9 grade point average in 1997 and received a HEEF scholarship that helped pay for classes at Cal State Fullerton.
"I loved my professors at Cal State Fullerton — Dr. (David) Pagni, Dr. (Martin) Bosangue and Dr. (Ernie) Solheid," Rodriguez said. "They really prepared me to understand the subject I'm teaching now. They are great role models."
She added that teaching is "more than an 8 to 5 job."
"Teaching, for me, is a commitment to improve the lives of students in Santa Ana, a fight against the high dropout rate of underrepresented students," Rodriguez said. "I see it as a responsibility."
While Rodriguez attended Cal State Fullerton, she partipated in the university's ENLACE (Engaging Latino Communities for Education) and EMBRACE (Educating Myself for Better Racial Awareness and Cultural Enrichment) programs. As a high school student, she also took part in CSUF's Project MISS (Mathematics Intensive Summer Session).
Silas H. Abrego, associate vice president for student affairs, who served as Rodriguez' mentor while she attended CSUF, wrote of Rodriguez in nomination for the HEEF award: "Herminia is a very passionate woman, committed to helping others to succeed. While she was a student, she volunteered her time to tutor K-12 students in mathematics through a variety of programs…. As an educator, Herminia continues to show great promise and I am sure that she will positively impact the lives of many students."
Valley High's principal, Fred Gomeztrejo, also nominated Rodriguez for the Apple of Gold Award. He wrote: "Herminia's activities include pro bono before and after school support for students, and continuous participation in related professional development work within and beyond the Santa Ana Unified School District. Her commitment to continuous improvement reflects her strength of character and devotion to students."