Project MISS Is a Hit for Summer Math
High School Girls Will Work to Strengthen Algebra II Skills
Up to 60 girls from 24 area high schools will forgo four weeks of summer vacation beginning July 7 to attend a specialized summer math program at Cal State Fullerton.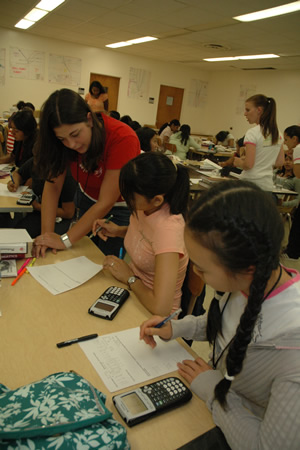 Tutor Jolene Harris, left, reviews the work of Steffani Peralta of Bellflower as Shannon Wonvibulson of Lake Forest goes over math problems on her own during last year's Project MISS program. Photo by Patrick O'Donnell
They'll be participating in Project MISS, Mathematics Intensive Summer Session. The students are not being sent to summer school. They had to apply to get into this program - the brainchild of a professor who has been honored at the White House.
The purpose of Project MISS is to enhance the math skills of 10th- and 11th-grade girls from Orange County and surrounding communities. With enhanced math skills, these students have a much better chance of succeeding in college and entering professions that rely on math, including the sciences, noted David L. Pagni, who founded the program.
The acclaimed Cal State Fullerton mathematics professor launched Project MISS in 1990 and has been directing it ever since. Three years ago, he received the Presidential Award for Excellence in Science, Mathematics and Engineering Mentoring plus a $10,000 grant from the National Science Foundation to continue his mentoring efforts that span multiple programs.
For the past 18 summers, Pagni has been conducting Project MISS and tracking the educational progress of its participants, some of whom have gone on to careers in teaching.
"Ninety-nine percent of Project MISS students have completed high school and gone on to college," said Pagni. "That is far better than the average. About 20 percent of them major in science, technology, engineering and math.
"The students' evaluation of the program has always been extremely positive," he added. "In the student evaluation questionnaire they fill out when the summer session is over, students have stated that they gained much from the program, that they were very interested in the program and that they had a positive attitude toward MISS. A typical statement was, 'I like everything about math. I liked what I did.'" The before-and-after test data on MISS students' math knowledge "shows an average of 59 percent gain in content knowledge during their month in MISS," said Pagni. "That is very significant."
The classes can vary from summer to summer, and this year, algebra II is again the focus. Other summer's sessions have been devoted to calculus and precalculus.
"I was a MISS student here in the summer of 2005 in precalculus," said Cal State Fullerton math major Cristian Bueno, who will work with Project MISS students this summer.
"I've always liked math but, before taking the MISS program, I remember still dreading some math classes, thinking they were sometimes boring or not very clear," Bueno said. "During the MISS course, I was reassured that I wanted to major in math. The program not only teaches math to students, but actually helps them understand what they are doing. Students tend to like math a lot more when they know the reason for doing what they're asked to do.
"I met a lot of other girls that year who, like me, had an interest in math, and it became one of the best summers . . . one of the most productive, so far," she said.
CSUF graduate student and math major Sharon Jeun, who received a bachelor's degree in engineering at Harvey Mudd College in 2004, also will be working with Project MISS students this summer. Jeun said she knows what she wants to help the students learn, and it goes beyond numbers.
"I want to help students be more comfortable with not knowing answers." Jeun said. "To learn is to realize something new that was not previously known. The process of learning is not a simple one, and students are bound to run into obstacles. I want to help students figure out how to tackle such obstacles.
"I want students to learn not to just blindly take in information, but to ask questions and take advantage of all the resources that are available to them to search for and find answers," she said.
Why do Pagni and the Project MISS teachers do what they do?
"It is our job at Cal State Fullerton, at any university, to have linkages to the K-to-12 system," said Pagni, who taught middle school and high school math in the 1960s. "We are like sports coaches. They know every athlete in the area with potential by the time they are in intermediate school. They can find ways to offer advice and encouragement.
"These students, these girls, show a lot of promise in math and just need the encouragement, someone to show them how to be better," Pagni said. "That's what we do."
Participants' schools, listed by city:
Anaheim

Canyon High School, Orange Union High School District
Cornelia Connelly High School
Loara High School, Anaheim Union High School District
Western High School, Anaheim Union High School

Cerritos

Valley Christian High School

Cypress

Oxford Academy, Anaheim Union High School District

Fountain Valley

Los Amigos High School, Garden Grove Unified School District

Fontana

A.B. Miller High School, Fontana Unified School District

Garden Grove

Rancho Alamitos High School, Garden Grove Unified School District
Santiago High School, Garden Grove Unified School District

La Palma

Kennedy High School, Anaheim Union High School District

Long Beach

Long Beach Polytechnic High School, Long Beach Unified School District

Newport Beach

Newport Harbor High School, Newport-Mesa Unified School District

Ontario

Ontario Christian High School

Orange

Orange High School, Orange Union High School District
Lutheran High School of Orange County

Placentia

El Dorado High School, Placentia-Yorba Linda Unified School District
Valencia High School, Placentia-Yorba Linda Unified School District

Pomona

Pomona High School, Pomona Unified School District

Rowland Heights

Rowland High School, Rowland Unified School District

San Clemente

San Clemente High School, Capistrano Unified School District

Santa Fe Springs

Santa Fe High School, Whittier Union High School District

Tustin

Foothill High School, Tustin Unified School District

Whittier

Whittier High School, Whittier Union High School District