Q & A with Ellen Kottler
Book Helps Teachers Work Successfully With Students
December 23, 2008
By Debra Cano Ramos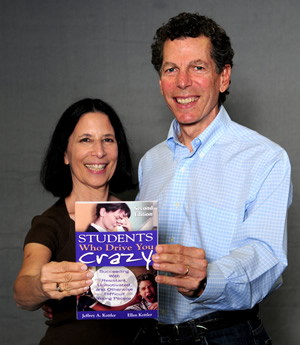 Ellen and Jeffrey Kottler
Following the publication of their latest book, Cal State Fullerton's Ellen Kottler talks about why she and her husband penned "Students Who Drive You Crazy" to help teachers deal with challenging pupils in the classroom.
Kottler is a lecturer in secondary education, and her husband, Jeffrey A. Kottler, is a professor of counseling at the university. Over the last 15 years, the couple, who live in Huntington Beach, have written a dozen books together. Kottler has authored or co-authored 13 books, and her husband has 75 titles to his credit. See related story.
Q: How does a couple write a book together?
Sometimes Jeffrey writes the first draft of a manuscript, and sometimes I do; it depends on the project. We work on computers in different rooms in the house and e-mail chapters to each other for editing and feedback. Since we commute to campus together, we often talk about next steps in the process on the freeway.
Q: The book's title is an attention-grabber. Why write a book on this subject?
We wrote the book to help teachers and other school personnel understand students' behavior and why they react to these behaviors the way they do, as well as to provide them with strategies for developing successful relationships with students they find challenging. The title is misleading in some ways. Whenever teachers, including professors, are experiencing problems, they tend to blame the students rather than looking at their own contributions to the conflict.
Q: Who should read this book?
The book is geared for teachers, administrators and school counselors. However, the ideas we are discussing also have implications for any classroom setting. There are times that university faculty members spend an inordinate amount of time thinking, worrying — even obsessing — about a few students who they find difficult. It is important to respond to such situations with compassion and empathy, to work out what is really going on, as well as set necessary limits to reduce disruptive or annoying behavior.
Q: What are some challenges teachers face in the classroom today?
The growth of class sizes and the increasing diversity of backgrounds, skills and abilities of students are new considerations teachers face. It used to be that students would act out by throwing spitballs across the room; now, there is a genuine fear that actual weapons might be involved in disputes.
Q: How can teachers cope personally and professionally when faced with difficult students?
Teachers need to understand that students are doing the best they can, that when they appear difficult, it is because they are trying to get their needs met in the only ways they know how. In the classroom, teachers will benefit by developing positive relationships with individual students, emphasizing their resources and building a sense of community with the whole class. We urge teachers to use active listening and problem-solving skills to work on their relationships with students, as well as focusing on setting limits for behavior.
Q: What are the benefits of implementing strategies suggested in the book?
Educators will be able to put students' behaviors in context, as well as understand the functions of conflict and the effects of home life factors on individual students. They will understand that while certain students seem to be a challenge for them, they may not be a challenge for others. They will improve their relationships with students and their parents, colleagues, family members and friends. Most of all, they will stop allowing so-called difficult students to get underneath their skin.
Q: What are some of the strategies for preventing future problems?
Educators can change from implementing reactive strategies to proactive intervention by thinking through situations before they occur, that is, anticipating student responses. Other strategies include paying attention to student feedback, having realistic expectations for students and searching for the best in all people. It's important to metabolize stress by taking care of oneself, diversifying one's interests and choosing to be with colleagues who are energized by their work. Probably the most difficult of all is to avoid focusing on things that can't be changed.