School for the Lowest Caste
Professor's Nonprofit Organization Helps Girls in Nepal Get an Education
December 22, 2009
By Mimi Ko Cruz
Over the last seven years, 101 girls from the lowest economic class in Nepal who would not otherwise be educated, have been going to school.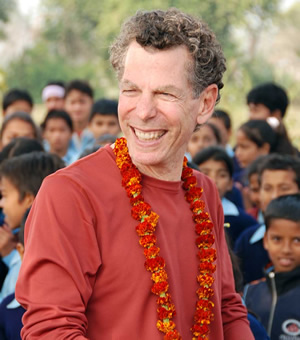 Jeffrey A. Kottler in one of the villages.
The students were given the opportunity to study through a charitable foundation, created by Jeffrey A. Kottler, Cal State Fullerton professor of counseling.
He was in a remote area of Nepal in 2003 supervising a doctoral student's research project on maternal mortality. What he found wrung his heart: young girls were disappearing as sex slavers were stealing or buying them. "Young girls are sold by their families because they can't afford to feed them or keep them in school," he said, recalling his tears when he made that discovery. He did not leave without making a $50 donation to a local school to educate one girl for the year.
Faced with starvation, infectious diseases, illiteracy and poverty, parents in Nepal sell an estimated 7,000 of their daughters into sex slavery each year. The life expectancy in Nepal is 57, and 90 percent of the population has no access to health care. According to the U.S. Agency for International Development, the first case of HIV in Nepal was reported in 1988 and nearly 60,000 people were infected with the virus by 2003. It is predicted that AIDS will become the leading cause of death among Nepal's 15- to 49-year-olds in the next decade.
Kottler and his former doctoral student, Kiran Regmi, set up the Madhav Ghimire Foundation, named after Regmi's father, Nepal's poet laureate. He returns each year to enroll more girls in school.
He is in Nepal now, adding two dozen new foundation scholarship recipients. Some of the girls are daughers of Sherpas who have died on Mt. Everest expeditions.
"When I go to Nepal and see the faces of these children who need so much help, it feels like what I do is important," Kottler said. "This is a part of the world that is so neglected that I feel I have to do something and this is the most important thing that I do because I can see how it changes people's lives."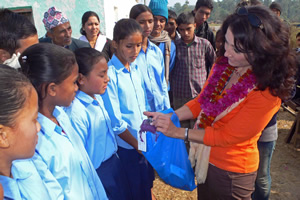 Heather Guay, gives a group of Madhav Ghimire Foundation scholarship girls a Zuni fetish as a gift.
"Sabita, one of the first girls we sponsored seven years ago, has been accepted to nursing school," a proud Kottler said. "She is the first in her village ever to attend a university."
But, he said, the cost to sponsor her in college is $1,000 or more per year, and this worries him.
"I'm not sure where the money is going to come from to help the children continue in higher education," he said.
Cal State Fullerton faculty, staff and students are some of the foundation's biggest contributors. Last semester, a group of undergraduate students raised $4,500 for the nonprofit organization. Others, including graduate students, who have traveled with Kottler to study the foundation's work, also have raised money to help sponsor more girls.
Each year, about 20 volunteers from throughout the world travel to Nepal with Kottler, to help teach and mentor the girls. CSUF graduate Heather Guay has returned four times and now directs the foundation's volunteer services. Janet Povero, a student in the master of public health program, in Nepal now, is doing research for her thesis.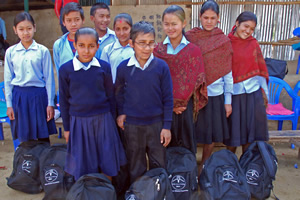 These are all the scholarship recipients in the village of Bahundanda, which is located on a mountaintop in the Himalayas.
Another half-dozen undergraduates are planning on providing volunteer work for the foundation in 2010.
Earlier this year, Kottler published "Changing People's Lives While Transforming Your Own," a book detailing his cause in Nepal and different paths to social justice, giving and volunteerism.
In it, he writes: "We devote ourselves to the path that offers us the greatest personal satisfaction and meaning. For some, this can involve the accumulation of maximum wealth; for others it means making a constructive difference in the world — being useful to others in greatest need."
For Kottler, it's the latter. He said he wrote the book to inspire people to get involved in service to others.
"Since I've known him, Dr. Kottler has been deeply committed to transforming the lives of the young girls his foundation serves," said David Hart, a doctoral student at the University of Missouri, one of Kottler's former students who last semester taught a new CSUF leadership class focused on creating change in the community. "Dr. Kottler's passion for social justice has been inspiration to me and served as an impetus for developing the leadership class."
A video on Kottler's foundation is available on YouTube.
Related Stories: