Business Titans in New Roles
Mihaylo Named iMergent CEO, Valle Appointed to Governor's Committee
November 18, 2008
By Pamela McLaren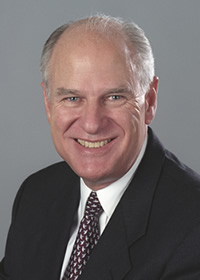 Steven G. Mihaylo
Steven G. Mihaylo, whose name graces the College of Business and Economics and its new home, Mihaylo Hall, is the new CEO for iMergent, a leading provider of e-commerce software for small businesses and entrepreneurs.
The 1969 business administration graduate also has been appointed to the Utah-based company's six-member board of directors.
Mihaylo is the retired chairman and chief executive officer of Inter-Tel Inc., which he founded shortly after graduating from Cal State Fullerton. He moved to Phoenix and began his business venture selling intercoms and, eventually, telephone systems for small and medium-sized businesses. By 1975, Inter-Tel, had a sales revenue of $1 million. Five years later, revenue had grown to $10.3 million. When the company was sold to Mitel for $720 million in 2007, annual sales were nearly $500 million.
In January 2008, the entrepreneur joined Cal State Fullerton President Milton A. Gordon and Anil Puri, dean of the College of Business and Economics, to announce a $30 million gift to the university — the largest donation in the university's history and the fourth-largest in the history of the 23-campus California State University system. Later that month, the CSU Board of Trustees approved naming the college in his honor. Previously, Mihaylo had given the campus $4.5 million, which led to the building naming; Mihaylo Hall was completed in time for the start of fall semester classes.
Mihaylo was on campus in October for the dedication of Mihaylo Hall and is scheduled to participate in the college's November Professor for a Day activities.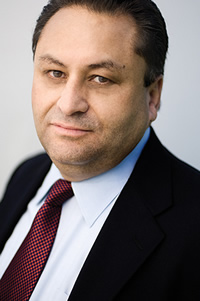 Francisco Valle
Valle Appointment
Fellow Cal State Fullerton alumnus Francisco Valle, 51, has been appointed to the Governor's Committee on Employment of People with Disabilities.
Valle (M.B.A. '85) has served as president and founder of Valle Consulting since 2002. For two years, he served as chairman and CEO of SCDRG Inc. and was regional vice president of operations for ARAMARK Corp. from 1998 to 2000. Valle also worked at Taco Bell Corp. as senior project manager of margin improvement from 1997-98 and market manager from 1994-97. He served as operations manager for ARCO-Four Corners Pipeline Co. from 1992-94 and worked for British Petroleum Company as the West Coast dispatch and terminal manager from 1989 to 1991.
Author of "How to Win the Hispanic Gold Rush," Valle is a member of Hispanic 100, National Society of Hispanic MBAs and the YMCA of Orange County. This post does not include a salary.
Related Stories: