Plastic Perils
Art Professor Delivers Lesson on Recycling Through Children's Film
March 16, 2010
By Mimi Ko Cruz
A plastic bottle crashes on a little red crab's home under the sea, leading the creature on a journey to a recycling bin. Along the way in a four-minute animated film, the crab delivers a lesson on the dangers of plastic trash in the ocean and it never speaks a word.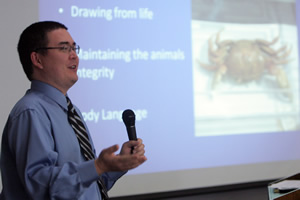 Brandon Strathmann talks about his award-winning film at a campus forum. Photo by Karen Tapia
"The Plastic Perils of the Pacific," produced by Brandon Strathmann, assistant professor of art, and his wife, Carlene Strathmann, is making the rounds, appearing at schools, conferences and film festivals around the world. It is their first film and it was a hit from the first time it screened last year at the Texas Black Film Festival, where it won first prize. Created in 2008, it now has compiled seven awards.
"I made this short animation for my own kids originally, since I animate from home," said Brandon Strathmann, who earned his master of fine arts degree in drawing from the University of Massachusetts Dartmouth, and joined Cal State Fullerton's faculty in 2007. "Children's minds are constantly absorbing the content they are presented with. I wanted to bring them something of value in their early years, when their opinions and morals are being formed."
The children who view the film "learn many frightening and depressing facts about the polluted world, which they are inheriting," he added. "The Plastic Perils of the Pacific" is "an attempt to provide someone, who has little power, the hope to make a positive change."
The Strathmanns presented the film and an unfinished version of their next film (a 3D animation about ocean acidification to be released this summer) at the Natural History Museum of Los Angeles County as part of the museum's March 14 "Sustainable Sundays" event. Along with the screening, they delivered a lesson on being good stewards of the Earth and handed out coloring pages and puzzles, reinforcing the lesson.
The film will be screened in Taipei at next month's Taiwan International Children's Film Festival. Other upcoming screenings and appearances can be found on the film's website.
Video
This is the award-winning "The Plastic Perils of the Pacific" by Brandon and Carlene Strathmann.