Reducing the Carbon Footprint
Project Provides Local Organic Fruits and Vegetables to CSUF Community and Homeless Families in Fullerton
March 16, 2010
By Mimi Ko Cruz
Sara E. Johnson and Jessica Lowerre eat locally-grown fruits and vegetables for more reasons than mere good health.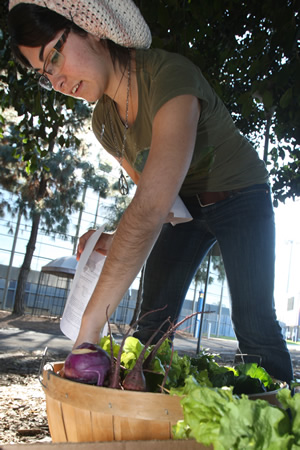 Anthropology major Jessica Lowerre prepares to distribute 35-pound baskets of fresh produce. Photo by Karen Tapia
"By eating these organic fruits and vegetables instead of those that are imported and contaminated by pesticides and hormones, we are reducing our carbon footprint," said Lowerre, anthropology major and president of Cal State Fullerton's Roots & Shoots student organization.
She recently led a Roots & Shoots meeting at the Fullerton Arboretum, where members of the group gather twice a month to distribute 35-pound baskets full of freshly-picked oranges, tomatoes, beets, lettuce and a variety of other produce as part of the Community Supported Agriculture project (CSA).
CSA is a partnership between a local food grower and consumers. Cal State Fullerton's partner is South Coast Farms. South Coast Farms delivers produce to the Arboretum twice a month and members of the campus and nearby community pick up their $30 prepaid baskets.
Johnson, associate professor of anthropology and Roots & Shoots adviser, said 39 people, including university faculty and staff members, students and community members, participate in the project.
"These are the best strawberries I've ever had," Johnson said, going through her basket. "These beets, garlic, celery and heirloom tomatoes are just phenomenal. They taste better and are more nutritious than the grocery store imports."
Emily Erickson, assistant professor of communications, said she participates in the CSA project because "it gives me a chance to eat through the seasons."
"Food that is naturally in season at its peak is best and this gives me diversity in my diet," she said.
Unclaimed baskets are donated to homeless families who are sheltered by Fullerton Interfaith Emergency Service, a nonprofit organization that provides food, transitional housing and support services to the hungry and homeless.
In addition to the basket donations, Johnson said, the students are collecting recipes to compile in a cookbook to benefit FIES.
She said people often have no idea how to prepare vegetables, such as kale, kohlrabi and other lesser-known produce and, therefore, opt not to try them. The cookbook aims to showcase simple recipes utilizing the typical contents of CSA basket produce.
For example, Johnson said her husband, John Bock, professor of anthropology, coordinator of the university's environmental studies program and director of the Center for Sustainability, makes a tasty sautéed kohlrabi. He follows this recipe:
Remove the leafy greens and feed them to your rabbits. Thinly slice the round part of the Kohlrabi and sauté with olive oil for 10 to 15 minutes. Add a little salt or paprika and it's ready to be served as a side to any main dish.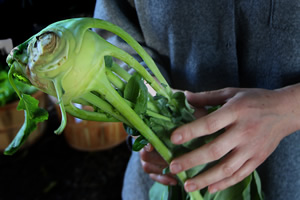 Kohlrabi can be prepared many ways. Photo by Karen Tapia
Kohlrabi also can be used to add flavor to any stir-fry dish, Johnson said, adding that it can be breaded and spiced in myriad manners. She said she, Bock and their 11-year-old daughter and 7-year-old son enjoy eating the vegetable and all the other goods in their CSA basket.
Once you learn how to prepare them, you'll start eating healthy vegetables and that's a good thing, she said.
To help the homeless families, who receive the baskets, learn to cook and grow them, Johnson has proposed the New Vista Urban Garden project.
"The goal of the project is to create a 'food web' that promotes self determination and healthy lifestyles for homeless adults and children," Johnson noted.
She said the project aims to:
increase access to and use of fresh fruits and vegetables by homeless families; and
increase knowledge of urban agriculture, nutrition, health and entrepreneurship, as well as associated skill sets among members of a low-income community.
Through the New Vista Urban Garden project, Johnson proposes establishing: a community garden at the FIES homeless shelter; an educational program focused on urban agriculture, cooking and nutrition; measurement and evaluation of behavioral change in diet; and sustainability of garden and educational initiatives.
"Our collaborative team will bring the urban agriculture skills and technical support to ensure a successful urban garden," Johnson said. "Faculty members from the university's Health Promotion Research Institute, including Archana McEligot, associate professor of health science, in association with Greg Dyment, director of the Fullerton Arboretum, and I will coordinate the garden intervention and the associated educational component. Ami Becker, the Arboretum's education specialist, will assist in the design of urban agriculture classes for children and adults."
In addition, Johnson, McEligot and Shari McMahan, professor of health science, will design the family health and nutrition toolkits and conduct focus groups with residents.
Johnson is submitting the project proposal for approval by the university's Institutional Review Board. Once approved, she said, the project will take root.
Meanwhile, Johnson has reached out to the culinary program at the Art Institute of California – Orange County in Santa Ana to discuss collaborating on the food web. The goal is to provide low-income families with the food preparation and menu planning skills needed to make the most of fresh produce.
In addition, she is working on a proposal to develop a minor in urban agriculture. She said the students who choose the minor, if approved, would get involved in the New Vista Urban Garden project or other community-based projects related to urban agriculture and community food security.
Jessica Snell, left, and her children, from left, Sam, Kate and Brigid, carry their basket of produce to their car after picking it up at the Fullerton Arboretum. Photo by Karen Tapia