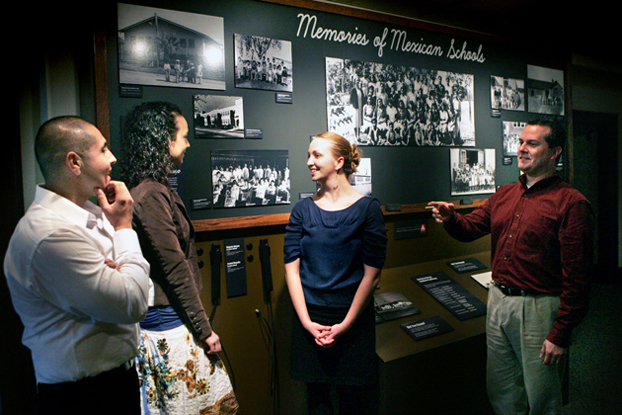 Caption: Raymond W. Rast, right, curator of "A Class Action," speaks with some of the exhibit's assistant curators, from left: Luis F. Fernandez, Christine Shook and Amanda Tewes. The exhibit, at the Old Orange County Courthouse Museum in Santa Ana, includes the "Memories of Mexican Schools" listening station (designed by CSUF alumna Carlota F. Haider) that was part of another exhibit at the Museum of Tolerance in Los Angeles in 2010. Photo by Karen TapiaDownload Photo
University Initiative: Bringing the Past to Life
A Class Action
Exhibit Features Struggle for School Desegregation in California
July 15, 2011 :: No. 11
What: "A Class Action: The Grassroots Struggle for School Desegregation in California," a free interactive exhibit, will open to the public for a special showing Sept. 3 and run from Sept. 12 through June 2012 at the Old Orange County Courthouse Museum in Santa Ana.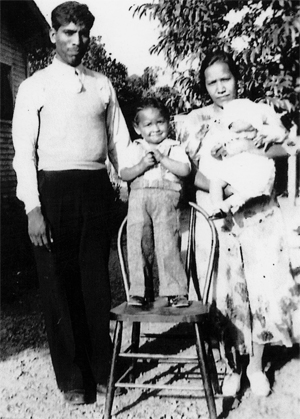 Caption: This photograph of one of the plaintiff families in the Mendez et al. v. Westminster et al. lawsuit, from left, Lorenzo, Ignacio, Josefina and Jim Ramirez, will be displayed in "A Class Action." It was taken in the 1940s. Photo courtesy the Ramirez familyDownload Photo
Highlights: As part of the exhibit, curated by Cal State Fullerton's Center for Oral and Public History (COPH) and produced by the Museum of Teaching and Learning (MOTAL) of Fullerton, visitors will be able to listen to oral histories of people who attended segregated schools in Orange County; view a mock classroom, depicting the conditions of a "Mexican" school in the 1940s; step into a mock courtroom designed to encourage visitors to enter the roles of plaintiff, defendant, attorney, witness and judge; and review legal documents, among other artifacts. And, as part of the exhibit, there will be free public lectures, panel discussions and film screenings at the museum through next summer. For a listing of all upcoming events, visit www.motal.org/events.html.
Where: Old Orange County Courthouse Museum, 211 W. Santa Ana Blvd., Santa Ana, 92701
When: Sept. 3, 4-9:30 p.m., and Sept. 12, 2011 through June 2012, 9 a.m.-5 p.m. weekdays.
During the Sept. 3 event, visitors will be greeted by docents dressed in 1940s attire, and a 30-minute documentary, "Mendez v. Westminster: Families for Equality" by Erica Bennett will be screened.
Who: Raymond W. Rast, Cal State Fullerton assistant professor of history and associate director of COPH, is the exhibit curator. Assistant curators are CSUF graduates Luis F. Fernandez (B.A. English and ethnic studies '07, M.A. history '10) of Garden Grove, Maria Quintero (M.A. history and Latin American studies '11) of Orange and Amanda Tewes (M.A. history '10) of Huntington Beach and American studies graduate student Heather Morales of Tustin. Christine Shook (B.A. history '07, M.A. history '10) of Lake Tahoe chairs the exhibit's education committee. The exhibit's designer is Gail Griswold, a Chapman University adjunct professor of design. Center for Oral and Public History archivist Stephanie S. George (B.A. American studies '01, M.A. history '07) of Villa Park is the project's registrar. And, CSUF alumna Greta K. Nagel, (M.S. education-reading '76) founder and executive director of MOTAL and a Cal State Long Beach emerita professor of teacher education, is the project manager. In addition, scores of CSUF students, professors, staffers and community members are working on the project as volunteers.
Why: "There are a great many things that I hope visitors take from this exhibition, including a passion for tolerance and equality, especially in educational settings," Tewes said. "I truly hope that we are able to wake up visitors to the reality that; yes, Orange County, California, had segregated schools; yes, this educational segregation stemmed from larger legal and social inequalities; yes, this community worked together and succeeded in at least legally desegregating local schools, but unfortunately, injustice — educational and otherwise — still exists nationally, and even locally. To me, this exhibition is about being aware of injustice and knowing how far you will go to fight it."
Additional: The exhibit will be part of fourth-grade and 11th-grade curriculum, Nagel said, adding that schools plan to visit "A Class Action" as part of a lesson plan. The fourth-grade lesson plan was created by Orange County educators Carey Baughman, Pat Pisano and Lucy A. Vezzuto, and the 11th-grade lesson plan was created by Christine Valenciana, CSUF associate professor of elementary and bilingual education.
Sponsors: MOTAL, CSUF's Center for Oral and Public History, OC Parks, Leatherby Libraries and the College of Educational Studies at Chapman University, Orange County Department of Education and National Archives at Riverside.
Media Contacts:
Raymond W. Rast, History, 657, 278-8563, rrast@fullerton.edu
Mimi Ko Cruz, Public Affairs, 657-278-7586, mkocruz@fullerton.edu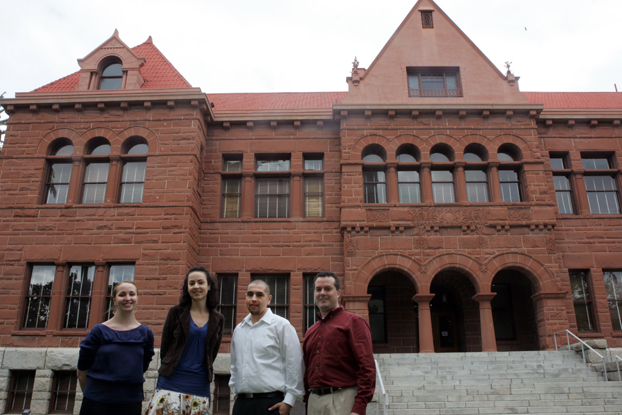 Caption: Standing in front of the old Orange County Courthouse are, from left: Amanda Tewes, Christine Shook, Luis F. Fernandez and Raymond W. Rast. Photo by Karen TapiaDownload Photo