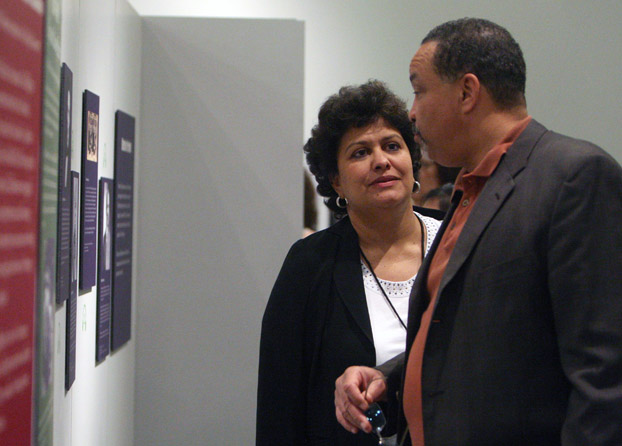 Caption: Los Angeles Superior Court Judge Robin Miller Sloan  and her husband Michael Sloan check out the "New Birth of Freedom" exhibit at the Fullerton Arboretum. She is the granddaughter of L.A. Superior Court Judge Loren Miller, one of the civil rights leaders featured in the exhibit. "Civil rights and equal rights for all people was absolutely his passion," Miller Sloan said about her grandfather. Photos by Karen TapiaDownload Photo
Bringing the Past to Life: A University Initiative


Roots of Equality
COPH Exhibit Examines Civil War and Civil Rights History
AMERICA'S CIVIL WAR began when Fort Sumter fell 150 years ago. A century later, the freedom rides for civil rights began.
"In putting these two eras in conversation with each other, we find common themes: the quests for freedom, equality and social justice," said Benjamin Cawthra, assistant professor of history, associate director of the university's Center for Oral and Public History, and project director of "New Birth of Freedom: Civil War to Civil Rights in California," a free, public exhibit on display at the Fullerton Arboretum's Orange County Agricultural and Nikkei Heritage Museum. "We locate our stories in California not only because we live here but to underscore the national dimensions of the Civil War and civil rights eras."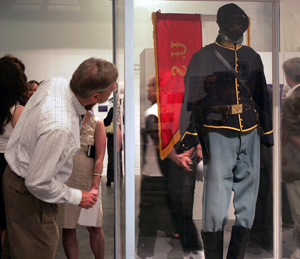 Caption: Hundreds of visitors have toured the exhibit featuring California's role in the Civil War and Civil rights movement. Photo by Karen TapiaDownload Photo
When President Abraham Lincoln called for a new birth of freedom at Gettysburg in 1863, "he was looking for some kind of meaning in the carnage of war," Cawthra said. "He hoped that something noble could emerge from ruin. But the new birth of which Lincoln spoke is an ongoing process, incomplete in his own era. A century later, Americans worked to make good on the promise of freedom and equality in the Civil Rights Movement. And 50 more years down the road, we continue to face the challenges posed by America's highest, yet not fully realized, ideals. We hope that our exhibition inspires visitors to consider how they can contribute to that ongoing new birth of freedom."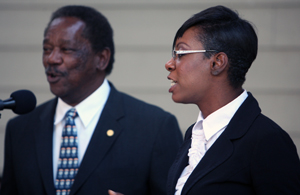 Caption: Stan L. Breckenridge and Ki Johnson sang "Go Down Moses" and a medley of freedom songs from the Civil War era during the exhibit's opening ceremony. Photo by Karen TapiaDownload Photo
Hundreds of visitors attended the exhibit's opening night ceremony in April, at which students recited excerpts from oral histories and 19th- and 20th-century documents. Curators Michelle Antenesse and Bethany Girod, who both completed their master's degrees in history this year, spoke about creating the exhibit, which is being sponsored by the university's Center for Oral and Public History. And musician Stan L. Breckenridge, Afro-ethnic studies lecturer, and singer Ki Johnson sang "Go Down Moses" and a medley of freedom songs from the Civil War era.
"I basically grew up in Fullerton my whole life, and call me ignorant, but I had very little knowledge surrounding the segregation and discrimination issues that Orange County faced," Girod said. "After doing some preliminary research, I chose to do this exhibition for my master's project because I knew it would take me out of my comfort zone. It would be a great experience for me and a project geared most toward my career goals as a public historian."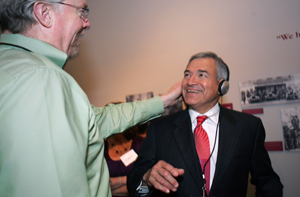 Caption: Rusty Kennedy, left, and Orange County Superior Court Judge Frederick P. Aguirre greet each other during a tour of the exhibit at the Fullerton Arboretum. Photo by Karen TapiaDownload Photo
Girod said she included the oral history of Dorothy Mulkey because of her battle against housing discrimination in Santa Ana. Mulkey and her husband, denied housing because of their race, filed a lawsuit that eventually reached the U.S. Supreme Court.
"After finding out she and her husband, Lincoln, were being discriminated against while trying to rent an apartment," Girod said, "she says in her oral history: 'How did that make me feel? I felt very angry. How dare they do that? They were renting to people just like them, which I was not, except if you cut me my blood will run as red as theirs. So, they had no right to refuse rental to us based upon the fact that we were a different color.
"'I had given the military three years of my life, and my husband had given them five. So, I guess I had a problem with a country that would allow you, a young girl, to go in at 18-and-a-half to serve in the military, and yet, when I come out, I can't find a suitable place to live. I had a real problem with that.'"
To have oral histories like Mulkey's in the exhibit, "adds a personal, meaningful and often powerful connection," Girod said.
Added Antenesse: "I hope that our exhibit is thought-provoking and makes people consider concepts like freedom, equality and citizenship, and consider what those ideas have meant throughout our history. The exhibit pays tribute to those who were brought to a place where they should have been free, but instead were held in bondage. It honors those who fought for their own freedom, who fought for the freedom of others, who fought for equal education, for equal justice, for liberty, for a new birth of freedom."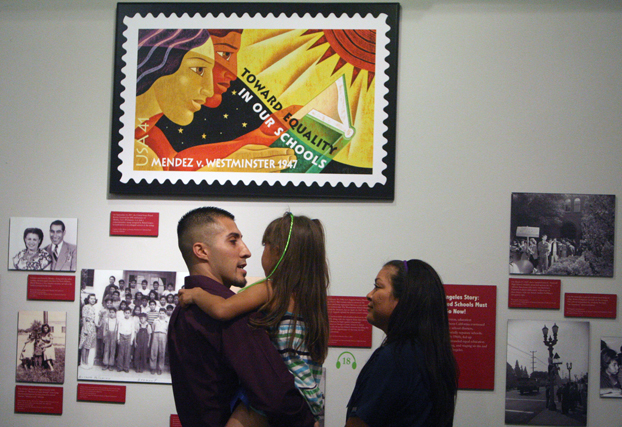 Caption: The "New Birth of Freedom" exhibit at the Arboretum features a wall with information about the case that desegregated public schools in Orange County. Photo by Karen TapiaDownload Photo
July 18, 2011