Victorian Dish
"Dirty Hands, White Gloves" Exhibit Explores Gender and Class
June 22, 2010
By Mimi Ko Cruz
A cushy velvet Victorian-era fainting couch in the front room was used to catch swooning women as they fell from wearing tightly corseted clothing, while a heavy cast iron waffle maker awaited their strong lifting arms in the kitchen.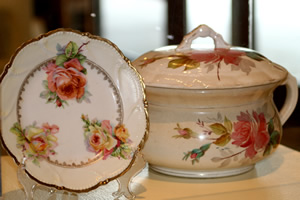 This china dish, circa 1890, and a chamber pot share a similar color palette, feminine floral design and material, but not function. Photo by Mimi Ko Cruz
"Coexisting in the same home, these pieces suggest the ambiguity of gender roles," said Amanda Tewes, curator of "Dirty Hands, White Gloves: Rethinking Gender in Victorian Orange County" an exhibit at the Fullerton Arboretum's Orange County Agricultural and Nikkei Heritage Museum. The free exhibit is open to the public from 11 a.m. to 3 p.m. Wednesdays, Saturdays and Sundays or by appointment, 657-278-3407, through November.
Tewes, who completed her master's degree in history in May, created the exhibit as part of her final project. It features artifacts from the Arboretum's Heritage House, the home and office built in 1894 for one of Fullerton's first physicians, George C. Clark, and his wife, Edith.
"When we think about the Victorian period, we conjure up images of corseted ladies hosting tea parties and gentlemen puffing on pipes," Tewes said. "Our fantasies about leisurely life in the Victorian era take for granted that such men and women were following social norms set in place for an urban middle class. By remembering only these images, we forget the complexities of Victorian life across the United States."
"Dirty Hands, White Gloves" showcases those complexities by juxtaposing everyday items with the more romantic and beautiful things of the time. Featured on display are pairs of seemingly disconnected items:
The elegant fainting couch and 8-pound Griswold Manufacturing Co. waffle iron, circa 1908.
A china dish, circa 1890, with a pretty floral pattern, and a chamber pot in similar pattern. "The chamber pot and china dish share a similar color palette, feminine floral design and material, though their functions differ," Tewes said. "Although emptying and cleaning a chamber pot was a less romantic activity than serving a meal on wedding china, both served a function in Victorian homes, and were overseen by women."
A walnut whatnot stand, circa 1850, with decorative spindles and a simple wooden rolling pin, circa 1890. "Whatnot stands created a display space for ornamentation," Tewes said. "Rolling pins, however, operated behind closed kitchen doors. Relegated to domesticity by Victorian values, middle-class women took pride in their home décor, but hid the tools of their labor."
A Battenberg lace doily and an 8-pound P&H Manufacturing Co. iron, circa 1890. "In order to display treasured objects in positions of honor on doilies, Victorian women first had to knit and iron these elaborate bits of cloth," Tewes said. "Contrasting a doily with a heavy iron used in maintaining it shows the complexities of women's work in civilizing the Victorian home."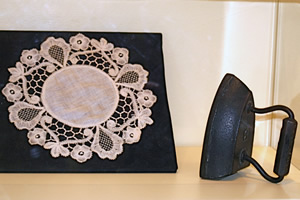 A lacy doily and an 8-pound iron are paired in the "Dirty Hands, White Gloves" exhibit, which runs through November. Photo by Mimi Ko Cruz
Other items on display include a straightedge razor, faux tortoiseshell brush and comb, a flute, pocket watch and fob, hydrogen oxide rub, leather vial case, perfume bottle with silk cover, seed catalogs and herb seeds, a metal grafting tool, and a wood and metal pill maker.
"By examining common items rather than just those reserved for special occasions, we are better able to understand the overlapping interests of public and private personas, as well as leisure and labor in nonurban settings," Tewes said. "Everyday Victorian furnishings and tools tell a different story about gender and home life in such places as Orange County."
The 23-year-old curator, a resident of Huntington Beach, said the purpose of her exhibit is to get people to look at the artifacts and the tales they seem to tell about life in the late 1890s to early 1900s.
"I want you to rethink Victorian history," she said. "These things tell us an important story about labor, gender and class."