Golden Pictures
'Querer es Poder' Photo Exhibit Wins Top CASE Award for Best Diversity Program
Cal State Fullerton's "Querer es Poder: 50 Examples" photo exhibit of 50 of its successful Latino alumni has won a gold medal in the 2009 Council for Advancement and Support of Education (CASE) Circle of Excellence Awards Program.
Judges said the exhibit was chosen for the national award — the top winner in the Diversity Programs category — because it was the first time Latino alumni had been honored in such a way and because the exhibit helps to educate the public while embracing a culture that may be the majority in California by 2017.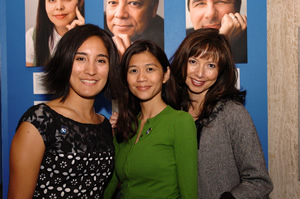 From left: "Querer es Poder" exhibit desinger Alexandra Duron and project creators Frances Teves and Mimi Ko Cruz. Photo by Stephen Weissbart
The CASE Circle of Excellence Awards Program recognizes superior accomplishments in institutional advancement that have a lasting impact, demonstrate the highest level of professionalism and epitomize the profession's best practices.
Motivating young people to attain a college education is the aim of "Querer es Poder: 50 Examples." It was created as part of Cal State Fullerton's 50th anniversary and opened at Santa Ana City Hall in March 2008. The exhibit traveled to Irvine City Hall and Fullerton City Hall before making its way to Cal State Fullerton's Pollak Library, where it has been on display since last summer.
Querer es poder is Spanish for "if you have the desire, you can achieve." As a way of spotlighting the university's Hispanic Serving Institution (HSI) designation, the exhibit features alumni who exemplify the "Querer es Poder" theme. Campus deans and other administrators, plus faculty and staff members submitted nominations, and a 50th anniversary committee made the final selection.
Cal State Fullerton was named an HSI in 2004. The designation is given by the U.S. Department of Education to higher education institutions with at least a 25 percent Hispanic student population. CSUF's student enrollment is 28 percent Hispanic.
The exhibit's photographer, Ed Carreón, also is one of the 50 subjects. The other featured alumni are: Santa Ana City Councilwoman Claudia C. Alvarez; Mt. San Antonio Community College District Board President Manuel Baca; Santa Ana City Councilman Carlos Bustamante; Fulbright scholar Andrea C. Cano; California Sen. Lou Correa (D-Santa Ana); John Cruz, Gov. Arnold Schwarzenegger's appointments secretary; restaurateur Rosalina Davis; Diana M. de la Teja Torres, pricing specialist at Boeing; David De Leon, a manager at John Wayne Airport; author Gloria DeLaTorre-Wycoff; John Echeveste, partner in the Valencia, Perez and Echeveste Public Relations firm; Moreno Valley City Manager Robert G. Gutierrez; Newport Heights Elementary School teacher
David A. Hernandez; optometrist and Assemblyman Ed Hernandez (D-West Covina); John C. Hernandez, Santiago Canyon College vice president of student services; Long Beach City Clerk Larry G. Herrera; Lawrence R. Labrado, Rancho Santiago Community College District trustee; Carlos Leija, chief development officer for Orangewood Children's Foundation; filmmaker Alejandro P. Lopez; M. Alexander Lopez, senior territory manager for Allergan Inc.; Maria Sanchez Macias, retired teacher and mother of Congresswomen Linda and Loretta Sanchez; E. Michael Madrid, Chapman University's education director; Angela Mannen, anthropology professor at El Camino College; Santa Ana City Councilwoman Michele Martinez; dentist Daniel Mendoza; Henry Mendoza, managing partner of Mendoza, Berger & Co.; radio and television sports commentator José Mota; NASA engineer Robert Navarro; Fernando D. Ortiz, chair of Santa Ana College's Ethnic Studies Department; Santa Ana Mayor Miguel A. Pulido; Fullerton City Councilwoman Sharon Quirk; attorney Ralph C. Quiroz; Imelda Ramirez, account manager for Applied Industrial Technologies; Manuel J. Ramirez, president of Ramirez International; retired Los Angeles Times staff writer H.G. Reza; Philip C. Rodriguez, director of student affairs at Cerritos College; forensic interviewer Adriana Patricia SanRoman; Lucy Santana, executive director of Girls Inc.; engineer Judith Segura, director of program development for Global Imprints LLC.; Genevieve Barrios Southgate, assistant director of education at Bowers Museum; Lilia Margarita Tanakeyowma, Santa Ana College's dean of student affairs; social worker Rocio Valencia; Francisco J. Valle, president of Valle Consulting; Vikki Vargas, Orange County bureau chief for NBC/4-TV; artist Emigdio Vasquez; Juan Vázquez, president of Santiago Canyon College; Yesenia Velez, director of diversity for Orange County United Way; Sharone Carmona Williams, doctoral candidate at Claremont Graduate University; and Edgar Zazueta, legislative advocate for the Los Angeles Unified School District.
Biographies of the subjects, as well as video of the Santa Ana exhibit opening and the Fullerton City Hall opening, are available.
The exhibit's creators are Fullerton resident Mimi Ko Cruz, CSUF communications specialist, and Huntington Beach resident Frances Teves, director of state relations and advocacy for Cal State Fullerton. Santa Ana resident Alexandra Duron, a CSUF graduate art major, designed the exhibit.
The project was produced and sponsored by the offices of Public Affairs, Government Relations and Student Affairs and funded by a CSUF 50th anniversary Golden Idea grant.
The photo exhibit — now on permanent display in Cal State Fullerton's Pollak Library — is located on the first floor, adjacent to the Chicana and Chicano Resource Center.
For more information about the exhibit, contact the project's coordinators: Ko Cruz, 657-278-7586; Teves, 657-278-5188; or Silas H. Abrego, associate vice president for student affairs, 657-278-3221.
Photos: Available online at www.fullerton.edu/newsphotos