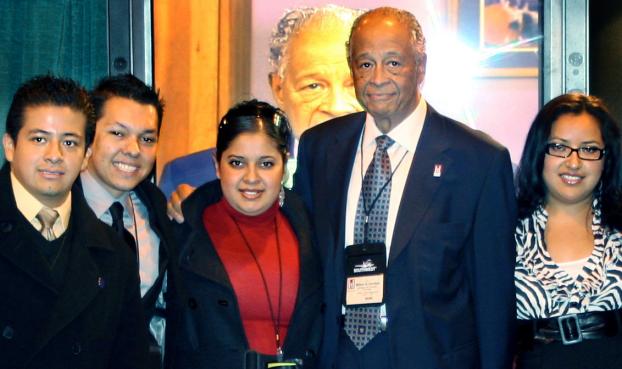 Caption: President Milton A. Gordon greets Cal State Fullerton student ambassadors Carlos Reyes, Henoc M. Preciado, Carolina Lepe and Karla Rios during a 2008 HACU meeting. Photo by Mimi Ko Cruz
Gordon at White House Tuesday
Initiative on Educational Excellence for Hispanic Americans
Oct. 19, 2010 :: No. 37
President Gordon is at the White House today, Tuesday, Oct. 19, attending an East Room presidential signing ceremony for the White House Initiative on Educational Excellence for Hispanic Americans.
Now in his 21st year as CSUF president, Gordon just completed a two-year term as chair of the nation's Hispanic Association of Colleges and Universities. Last month, he was awarded the association's highest honor — the HACU President's Award of Excellence for his leadership in championing student success in higher education for the past two decades. 
Cal State Fullerton is ranked No. 1 in California and No. 5 in the nation for the number of bachelor's degrees awarded each year to Hispanics, according to Hispanic Outlook in Higher Education, which bases its rankings on data from the U.S. Department of Education. 
"To reach the ambitious education goals we have set for our nation, we must provide the opportunities needed to raise Hispanic Education attainment at every level of the American education system," said Stephanie Valencia Ramirez, associate director of the White House Office of Public Engagement. 
The White House Initiative on Educational Excellence for Hispanic Americans was established in September 1990 to provide advice and guidance to the secretary of education on education issues related to Hispanics and to address academic excellence and opportunities for the Hispanic community. The initiative was continued by Presidents Bill Clinton, George W. Bush and Obama. 
The new Executive Order is based on feedback gathered by the initiative in more than 100 community conversations across the country with experts in education, community leaders from more than 30 states, the District of Columbia and Puerto Rico, and from comments from more than 10,000 Americans on how to develop solutions to the challenges confronting the Hispanic community in education.
Today's 1:50 p.m. ceremony is being held in conjunction with Hispanic Heritage Month. 
Gordon flew to Washington, D.C., Sunday and Monday attended the National Education Summit hosted by the U.S. Department of Education at the Organization of American States. The summit brought together experts and community leaders from around the country on issues ranging from early childhood learning to higher education.
Media Contacts:
Christopher Bugbee, Public Affairs, 657-278-8134 or cbugbee@fullerton.edu
Paula Selleck, Public Affairs, 657-278-4856 or pselleck@fullerton.edu