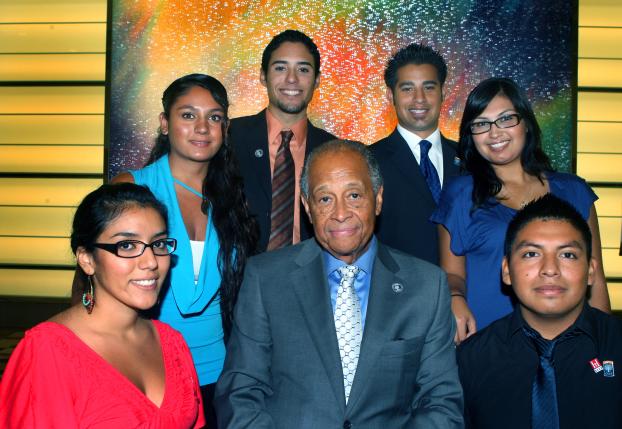 Caption: Cal State Fullerton President Milton A. Gordon, middle, is surrounded by Cal State Fullerton students, from left, Eliza Ramirez, Danette Salas, Gilbert Valencia, Eder Palma, Hilda Aboytia and Jesus Rivera at the 24th annual HACU conference. Photo by Karen Tapia
Download Photo
Top Award for Top Official
President Milton A. Gordon Receives Hispanic Association of Colleges and Universities' Highest Honor
PRESIDENT MILTON A. GORDON was awarded the highest honor bestowed by the Hispanic Association of Colleges and Universities Sunday, Sept. 19, during the organization's 24th annual conference in San Diego.
"It's been a real honor for me to have served on the governing board," said Gordon, accepting the HACU President's Award of Excellence. He is completing his second year as chairman of HACU's governing board.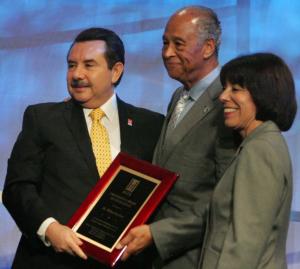 Caption: Milton A. Gordon, center, receives the President's Award of Excellence from HACU President Antonio R. Flores, left, and Sandra V. Serrano. Photo by Karen Tapia
Download Photo
Gordon was given the President's Award of Excellence for "championing student success in higher education for the last two decades and for his exemplary leadership," said Sandra V. Serrano, a HACU Governing Board member.
HACU is a global organization that represents hundreds of colleges and universities committed to Hispanic higher education success in the United States, Puerto Rico, Latin America, Spain and Portugal. Established in 1986, it represents Hispanic-Serving Institutions, where Latinos constitute at least 25 percent of the student population.
Latinos constitute 29 percent of Cal State Fullerton's student population of about 36,000, and the university has been designated by the U.S. Department of Education as a Hispanic-Serving Institution since 2004.
During Gordon's 20 years as president of Cal State Fullerton, the university reached the highest enrollment of all 23 California State University campuses, and instituted scores of programs to recruit, retain and graduate students.
Hispanic Outlook in Higher Education ranks CSUF No. 1 in California and fifth in the nation among top colleges and universities awarding bachelor's degrees to Latinos, based on 2010 data from the U.S. Department of Education.
"Dr. Gordon is passionate about providing all students the opportunity to pursue their higher education goals. He is particularly committed to low-income and first-generation college students, and making sure they have every opportunity to graduate and be successful," said Silas H. Abrego, associate vice president for student affairs.
Sept. 20, 2010