First in the State, Fifth in the Nation
Cal State Fullerton Ranks High for Awarding Degrees to Hispanics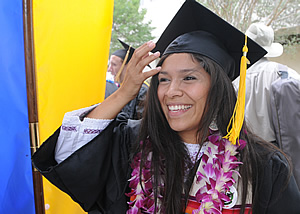 Carmen J. Cortez, graduated last year with a B.S. in biological science, a $101,500 National Science Foundation fellowship and a full scholarship from UC Davis. Photo by Kelly Lacefield
Cal State Fullerton has moved up to first in California and fifth in the nation for the number of bachelor's degrees awarded to Hispanic students, reports The Hispanic Outlook in Higher Education.
The annual rankings, published in the magazine's "Top 100 Colleges for Hispanics" May 3 cover story, are based on 2009 data from the U.S. Department of Education's National Center for Education Statistics. Last year, Cal State Fullerton was second in the state and sixth in the nation, and has been ranked either first or second in the state since 2005.
Cal State Fullerton's Class of 2009 included 1,641 Hispanics who earned bachelor's degrees and 206 who earned master's degrees. The magazine also ranks Cal State Fullerton 29th in the nation for the number of master's degrees awarded to Hispanics.
The magazine also tracks institutions by degrees awarded in specific academic programs. For bachelor's degrees awarded to Hispanics in specific majors, Cal State Fullerton ranks:
first in communications
sixth in business and marketing
seventh in education
tenth in area studies
As part of this year's commencement season, Cal State Fullerton will host its annual Chicano/Latino & Native American Graduation Celebration Saturday, May 15, from 5:30-9 p.m. in Portola Pavilion of the Titan Student Union. The campuswide ceremonies are May 22-23.
Overall, Hispanics constitute 29 percent of Cal State Fullerton's current student enrollment of 32,611. Since 2004, Cal State Fullerton has been designated by the U.S. Department of Education as a Hispanic-Serving Institution, and CSUF President Milton A. Gordon currently chairs the Hispanic Association of Colleges and Universities Governing Board. He was honored in March with the American Association of Hispanics in Higher Education's Alfredo G. de los Santos Jr. Distinguished Leadership in Higher Education Award.