Sweating in Style
State-of-the-art Student Recreation Center opens today
March 12, 2008
By Pamela McLaren
Students soon will be building up a sweat, playing basketball, volleyball or badminton, lifting weights, riding stationary cycling machines, practicing martial arts, climbing a wall, swimming laps or just joining together in the just opened Student Recreation Center.
The $40.6-million, two-story, 95,000-square-foot facility, located west of Titan Gym, opened today for student and staff use. An official grand opening is planned for April.
"The Student Recreation Center will serve as a new kind of campus gathering spot," said senior Anna Santos, chair of the Titan Student Union Governing Board and a political science major. "It is a place where students and other members of the CSUF community can take part in campus life outside of the classroom."
"The programs and services offered through the rec center can help students strengthen their feelings of connection with the campus, and this supports the university's student retention objectives," said Kurt Borsting, director of the Titan Student Union.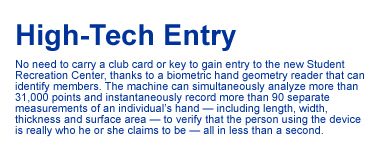 All Cal State Fullerton students who have paid their Titan Student Union fees are eligible to use the new facility. Faculty and staff members and alumni may use the center by paying membership fees. The fee will be about $300 a year.
Among its amenities are a 22,000-square-foot multicourt gymnasium, a 15,000-square-foot cardio/weight room — one of the largest on a West Coast campus and featuring special equipment for use by disabled students — an outdoor lap pool, a multimedia cardio room, a cycling room and an indoor track.
One of its most prominent features is a 38-foot-by-28-foot rock wall, right off the center's entrance. It is designed to accommodate up to nine climbers simultaneously.
"We anticipate that the wall will be very popular," said Andrea Willer, Titan Recreation Director, noting the wall's unusual design. "It will be open for classes, club use and special events."
Also on the first floor are four group exercise rooms, including the Harvey McKee Fitness Room. The room is named after the former executive director of Associated Students Inc., who served more than 34 years in the development of the student leadership body and the Titan Student Union.
After working out, students can shower and change in changing rooms that feature more than 500 lockers and showers supplied with shampoo, soap and hair dryers.
The entire facility is wireless and features cutting-edge technology throughout the building, including a biometric hand geometry reader to gain access to the building.
The center also is noteworthy for its "greenness." Crowned "Best Overall Sustainable Design" at the 2007 Best Practice Awards for the University of California/California State University Energy Efficiency Partnership Program, it features a number of design elements to save on the use of water and power. Effective water use is a major focus in the facility, with a projected savings of more than 415,000 gallons per year. Energy conservation efforts incorporated into the center planning exceed Title 24 of the California Code of Regulations for Energy Efficiency Standards by 30 percent.
The building design also supports sustainability through features such as interior low-emitting materials (paints, sealants and carpets), installation of additional bike racks and a construction-waste management plan to divert large amounts of the project's construction waste from landfills to recycling for consumer use. "Green" housekeeping will be practiced in the building's maintenance, encouraging alternatives to commonly used chemical-based cleaning supplies.
"The students who spearheaded the center's funding and the campus Design and Construction Office staff always intended the Student Recreation Center to be environmentally sensitive," Borsting said. "Our goal is to provide a great new campus facility that uses resources wisely. What a terrific gift Cal State Fullerton students have given to the future of the campus, and its completion during the university's 50th anniversary celebration makes it all that much more exciting."
Construction of the Student Recreation Center began in 2006 and was funded through student fees. The fees and revenue generated through facility operations will maintain the building and its programs as part of the Titan Student Union, a program of Associated Students, Inc.
Spring Fitness Schedule
Here is a sampling of the classes being offered at the new Student Recreation Center:
6:30 a.m., Wednesday, Friday Yoga
6:30 a.m., Monday, Step
12:05 p.m., Monday, Wednesday, Friday Titan Cycle
12:05 p.m., Tuesday, Aqua Fit
3 p.m., Wednesday, Rock Wall Climb I
6 p.m., Monday, Wednesday Women's Self Defense
6 p.m., Monday, Salsa Dance
6 p.m., Tuesday, Thursday Cardio Kickbox
7 p.m., Monday, Beginning Kung Fu
7 p.m., Monday, Treadmill Interval
7 p.m., Tuesday, Thursday Martial Contact
7:30 p.m., Monday, Pilates