News Release from the CSU, Office of the Chancellor, Public Affairs:
CSU Trustees Appoint Mildred García
as President of Cal State Fullerton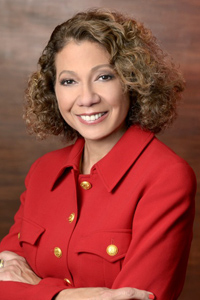 Caption: Mildred García
(Updated, 04/06/2012: Dr. García's first day as President of California State University, Fullerton will be Monday, June 11, 2012.)
(Jan. 25, 2012) – The California State University Board of Trustees today named Mildred García, president of California State University, Dominguez Hills, as president of California State University, Fullerton, effective after June 1. García, who is the first Latina president in the CSU system, has been CSUDH president since 2007.    
"I am extremely honored to be selected as president of another outstanding institution within the California State University, and look forward to working together with the entire CSU Fullerton campus community as we build on its strong foundation," said García.
García was among the finalists for the position to succeed retired President Milton A. Gordon, who served as CSUF president since 1990.  The Board of Trustees will set García's compensation during its March meeting.
"Dr. García brings unbounded energy, excellent leadership skills and an impressive record of achievement to her new role as president of Cal State Fullerton," said CSU Trustee Lou Monville, chair of the presidential search committee. "Her student-focused approach, commitment to scholarship and strong administrative experience will be tremendous assets to the campus."
García came to Dominguez Hills after serving from 2001 to 2007 as president of Berkeley College in New York and New Jersey, where she oversaw six campuses offering two and four-year degree programs.
Last July, President Obama appointed García to the President's Advisory Commission on Educational Excellence of Hispanic Americans. She and the other commission members will advise the president and the education secretary on matters pertaining to the educational attainment of Hispanic students.
From 1997 to 2001, she held several positions with Arizona State University, including vice provost for academic personnel, associate vice provost for academic affairs and was also a tenured professor in the Department of Social and Behavioral Sciences. 
While at ASU, García was also the liaison for faculty with the Hispanic Research Center on campus.  She was also affiliated with Montclair State University from 1986 to 1996 and Hostos Community College of City University of New York from 1979 to 1986.
García was appointed as a member of the Board of Visitors for Air University by the Secretary of Defense.  She also serves on the boards of the Association of American Colleges and Universities and the American Association of Hispanics in Higher Education, as well as sits on the Advisory Board of Higher Education Abstracts; the Editorial Advisory Board of Peer Review, Association of American Colleges and Universities; the Advisory Board for Hispanic Outlook in Higher Education; the National Advisory Panel of the National Institute for Learning Outcomes Assessment, and is a founding board member of the National Council for Community and Education Partnerships. She served on the 2060 Blue Ribbon Committee, charged by the Metropolitan Water District of Southern California to identify long-range strategies to foster water reliability and environmental stewardship in the region.
She holds a B.S. in business education from Bernard M. Baruch College, and M.A. in business and higher education from New York University, and M.A. in higher education from Columbia University-Teachers College, and a Doctor of Education from Columbia University-Teachers College.   
Media Contact: Claudia Keith, ckeith@calstate.edu at 562-951-4800                                                                   
About Cal State Fullerton
A comprehensive, regional university with a global outlook, Cal State Fullerton enrolls more than 34,000 students and offers 105 degree programs in eight colleges. Accredited by the Western Association of Schools and Colleges, Cal State Fullerton is one of the largest campuses in the 23-campus California State University system. It is ninth in the nation for the number of bachelor's degrees awarded to minority students and first in California for the number of bachelor's degrees awarded to Hispanics. Learn more about the university at the CSUF Web site: www.fullerton.edu.
About the California State University
The California State University is the largest system of senior higher education in the country, with 23 campuses, approximately 412,000 students and 43,000 faculty and staff. The CSU awards about 90,000 degrees annually and since its creation in 1961 has conferred nearly 2.6 million. Celebrating its 50th anniversary this year, the CSU is renowned for the quality of its teaching and for the job-ready graduates it produces. The mission of the CSU is to provide high-quality, affordable education to meet the ever changing needs of the people of California. With its commitment to excellence, diversity and innovation, the CSU is the university system that is working for California. Connect with and learn more about the CSU at CSU Social Media.