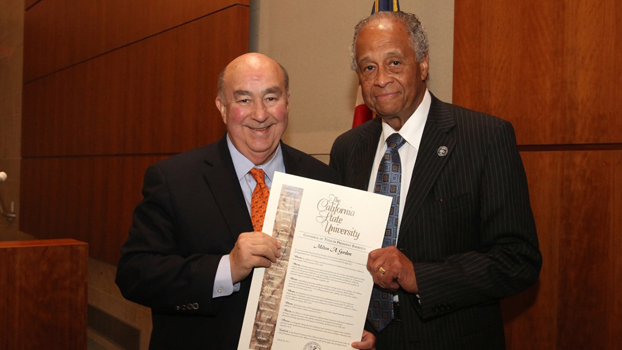 Caption: California State University Chancellor Charles Reed presents a resolution conferring the title of president emeritus upon Milton A. Gordon. Photo: Tony Kawashima Download Photo
Recognizing University Leadership
CSU Trustees Name Gordon President Emeritus
California State University Trustees made it official March 20 — Milton A. Gordon is now president emeritus of Cal State Fullerton.
It's the latest in a series of honors being accorded to the longest-serving president in the university's history. For his accomplishments in higher education, Gordon received on March 10 the Lifetime Achievement Award from 100 Black Men of Orange County. Next month, he will receive an Estrella Award for lifetime achievement from the Orange County Hispanic Chamber of Commerce.
The text of the resolution approved by the CSU Trustees follows:
Conferral of Title of President Emeritus: Milton A. Gordon
WHEREAS, Dr. Milton A. Gordon served as president of California State University, Fullerton from August 1990 to January 2012; and
WHEREAS, among numerous noteworthy accomplishments, he oversaw remarkable gains in both student diversity and achievement as underrepresented students increased from 31.15 percent in 1990 to 56.28 percent in Fall 2011 as a percentage of total university enrollment, while the university soared to first place in California and fifth in the nation overall for the number of bachelor's degrees awarded to Hispanic students; and
WHEREAS, responding to growing enrollment and the evolving needs of his students, Dr. Milton A. Gordon transformed the campus during his presidency with a dramatic $636 million expansion of university facilities — 22 building projects in all — adding more than four million square feet of interior space; and
WHEREAS, his leadership was instrumental in the establishment of the Cal State Fullerton Philanthropic Foundation, which since its inception has raised in excess of $179 million in private support, and increased the university endowment 19-fold, from $1.67 million in 1990 to $32.3 million as of June 2011; and
WHEREAS, during his tenure CSUF quadrupled the university's research funding, from $5.6 million in 1990 to $26.6 million received in 2011;
WHEREAS, Dr. Milton A. Gordon furthered California State University, Fullerton's recognition of being a regional university with a global outlook by executing 84 international education/exchange agreements with partner universities, up from seven in 1990; and
WHEREAS, it is altogether fitting that the California State University recognize those members who have made fundamental and historic contributions to this system of higher education; now, therefore, be it
RESOLVED, by the Board of Trustees of the California State University, that this board confer the title of President Emeritus Gordon, with all the rights and privileges thereto.
March 23, 2012