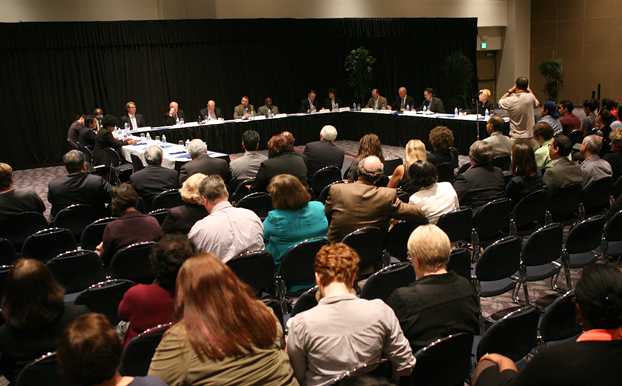 Caption: More than 200 campus members attended Friday's open forum and first gathering of those named to serve on the search group for the next CSUF president. Photos by Greg Andersen Download Photo
Seeking the Fifth President of CSUF
Forum Starts Presidential Search
Students, faculty and staff share views, praise and criticism
During a lively open forum Oct. 21, students, staff, faculty, emeriti and alumni gathered in the Titan Student Union to help launch the process of selecting the university's next president.
CSU Trustee Lou Monville, who is chairing the Trustees' Committee for the Selection of the President, announced at the end of Friday's two-hour session that he'd "taken six pages of notes."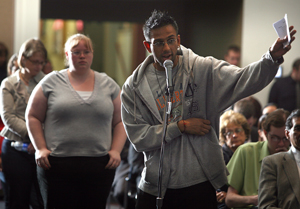 Caption: Chirag Bhakta (B.A. history '10) addressed the forum. Download Photo
Undergraduate and graduate students from a variety of majors offered comments — some in passionate and loud voices, pressing the CSU representatives for an answer to their pleas for adding students to the search group. CSU Trustee Chair Herbert L. Carter said he would confer with other trustees on the matter.
"We're looking for someone who will support students and faculty in their search for truth ..." said Diana W. Guerin, professor of child and adolescent studies, during the opening comments offered by committee members. 
The search group is composed of two committees — the Trustees' Committee for the Selection of the President and the Advisory Committee to the Trustees' Committee for the Selection of the President.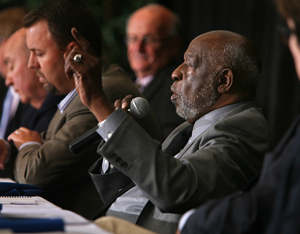 Caption: CSU Trustee Chair Herbert L. Carter responds.  Download Photo
Besides Carter and Monville, the selection committee includes CSU trustees Henry Mendoza, Steven Glazer and William Hauck, as well as CSU Chancellor Charles B. Reed. All participated in Friday's meeting. Mendoza is a CSUF graduate (B.A. business administration-accounting in '81) and managing partner of Mendoza, Berger & Co.
Those attending from the advisory committee were: Academic Senate Chair John W. "Jack" Bedell; Paul J. Carter, CSUF Alumni Association president; Guerin, an alumna and former Academic Senate chair; Willie J. Hagan, CSUF vice president for administration and finance; Associated Students President Eric Niu; Jacqueline Otis, president and chief steward of CSUEU; Douglas H. Simao, chair of the CSF Philanthropic Board of Governors; and Mark Hoven Stohs, professor of finance.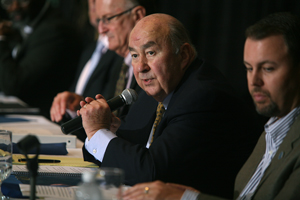 Caption: CSU Chancellor Charles B. Reed, flanked by Academic Senate Chair Jack Bedell, left, and Trustee Lou Monville.  Download Photo
The selection process schedule calls for the search group to review resumes and conduct interviews in the next two months to identify finalists. Two others members of the advisory committee, Fullerton City Councilwoman Sharon Quirk-Silva and CSULB President  F. King Alexander, were unable to attend the Oct. 21 session. 
Oct. 24, 2011