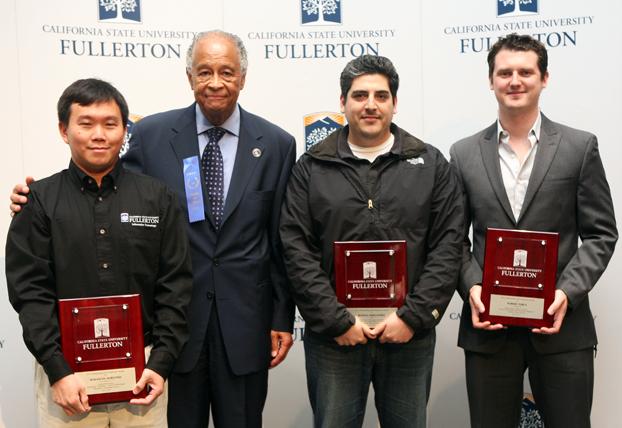 Caption: From left: Wirawan Harjono, CSUF President Milton A. Gordon, Roman Hernandez and Robert Pierce. Harjono, Hernandez and Pierce are this year's Outstanding Staff Award recipients. Photo by Greg AndersenDownload Photo
Terrific Trio
Three Campus Staffers Awarded for Exceptional Service
If there is one thing this year's trio of outstanding service award recipients have in common, it is that they have provided a level of service, reliability, initiative and leadership that is worthy of being recognized not just by their departments but by their peers across campus.
For that reason, Cal State Fullerton has honored Wirawan Harjono, analyst programmer in Information Technology, Roman Hernandez, of Disabled Student Services, and Robert Pierce of the Center for Internships and Community Engagement as the 2011 Outstanding Staff Award recipients from among 43 campus staff who were recognized as this year's Titan Excellence Award recipients.
Read more about Harjono, Hernandez and Pierce by clicking on their names.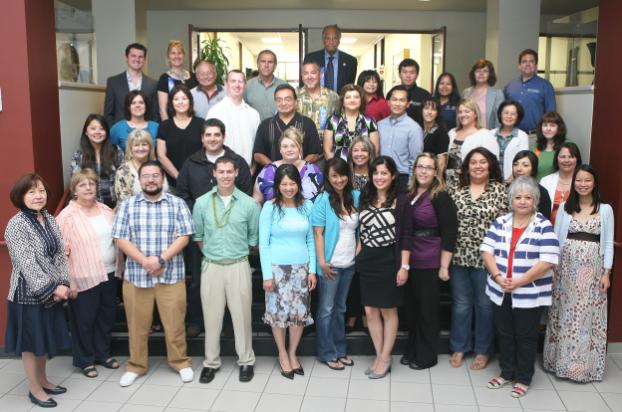 Caption: This year's Outstanding Staff honorees were chosen from the univeristy's Titan Excellence Award winners. Photo by Greg AndersenDownload Photo
June 22, 2011