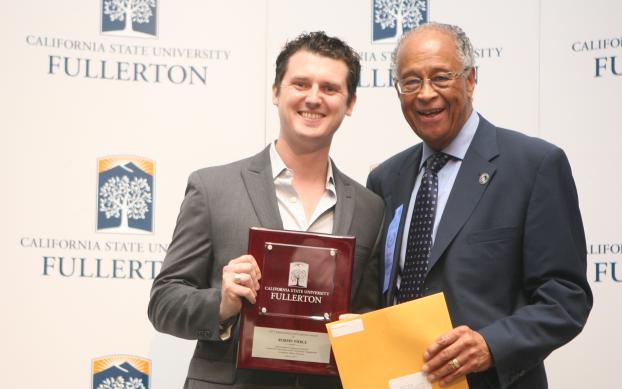 CSUF President Milton A. Gordon, right, congratulates Robert Pierce, one of this year's Outstanding Staff Award recipients. Photo by Greg AndersenDownload Photoion: CSUF
The Go-To Guy
Robert Pierce Wins Outstanding Staff Award
AT THE CENTER for Internships & Community Engagement, Robert Pierce often is viewed as the "go-to guy" and problem-solver.
He's always eager to assist staff and faculty members, students and community partners — exceeding the requirements of his job as the center's administrative support assistant.
"Rob is the friendly face and voice that represents the center to our most valued and important constituents. He is a tremendous asset to our department," said Dawn Macy, associate director of the center. "He is simply an outstanding employee in every way — a valued co-worker and a responsible and trusted individual with tremendous capacity to contribute to the university."
Pierce is one of this year's trio of outstanding service award recipients. The award is the highest honor bestowed on a university staff member. The native of England said he is honored and appreciative of the university-wide recognition.
"Everyone in our office works very hard to serve our students and to keep our programs running. Working with committed people brings out the best in you," he said.
As the office manager, Pierce is responsible for the day-to-day functions of the center, which coordinates student academic internships and service-learning. He's also responsible for administrative functions, such as budgets, payroll and hiring.
Additionally, he oversees the duties of student assistants, as well as other center operations, such as organizing the annual Community Engagement Awards and giving presentations to students about internship and service-learning opportunities.
Moreover, his managers and campus clients agree that Pierce goes above-and-beyond his required duties to provide the best possible customer service and has been resourceful in developing ways to streamline center functions. For instance, Pierce has simplified the center's registration, placement and position-listing systems, making the process more efficient and customer-friendly. He also developed a new paperless system to process learning agreement contracts between the university and community partners. The new electronic system is scheduled for implementation this summer, Pierce said.
Pierce started working at Cal State Fullerton in January 2009 as a temporary employee in Faculty Affairs and Records. When this position ended in May 2009, he landed a job at the center, and then became a full-time employee in August 2009.
He lauded his managers and staff for allowing and trusting him to find better ways to do his job for the betterment of the center, its customers, and university. Pierce also said he enjoys his job because the center makes a positive impact on the students' learning experiences.
"It's important in any job to feel like you're doing something that matters. Beyond contributing to the primary mission of the university as an educational institution, which is of incredible importance in itself, the center also assists students and faculty members in directly engaging with the community and serving populations in need," Pierce said. "It's very rewarding to know that you are part of something that makes a difference in people's lives."
June 22, 2011