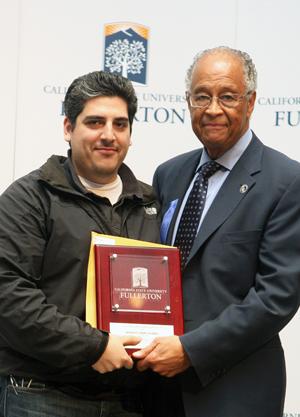 Caption: CSUF President Milton A. Gordon, right, congratulates Roman Hernandez, one of this year's Outstanding Staff Award recipients. Photo by Greg AndersenDownload Photo
Diminishing Disabilities
Roman Hernandez Wins Outstanding Staff Award
AFTER HIS FIRST meeting with Albert Flores three years ago, Roman Hernandez immediately started researching how to help the philosophy professor communicate.
"I read 'The Diving Bell and the Butterfly' and got some tips," said Hernandez, adaptive technology specialist for Cal State Fullerton's Disabled Student Services.
The CSUF alumnus (B.S. computer science '03) said he was captivated by the book, a memoir of the late editor of the French Elle magazine who, like Flores, had suffered a severe stroke that left his body paralyzed but his mind intact.
Flores suffered major brain stem damage that stole his voice and motor skills in 2006. Though confined to a wheelchair and requiring constant nursing care, he began visiting the Disabled Student Services office twice a week from 2008 to 2010. During that time, Hernandez created various types of equipment to facilitate communication for the professor, who now lives in a nursing home in Fullerton.
For his efforts with Flores and CSUF's students with disabilities, Hernandez has been named one of this year's outstanding service award recipients. The award is the highest honor bestowed on a university staff member.
"As Roman's immediate supervisor, I have been extremely impressed with his extraordinary ability to analyze situations and develop and implement well thought-out and appropriate solutions," said Jeffrey C. Senge, coordinator and the university's Information and Computer Access Program.
For example, when he worked with Flores, Hernandez started with a whiteboard and 2-inch-tall alphabet letters and numbers that he laminated and fastened to the board with Velcro. He also strapped a laser pointer to a band-like hat he made and fit it on Flores' head.
"He would move his head to point to the letters he wanted, but he had vision problems, so it was difficult to use. I had to find another way for him to be able to communicate," Hernandez said. "I really wanted to help."
Hernandez noticed that Flores could tap his thumbs, so he made a tapping devise out of jump rope handles with electronic triggers and trained the 65-year-old professor on Morse code.
He observed Flores consistently adding an extra dot when trying to tap out a message so he wrote a program to incorporate the extra dot.
Eventually, "I was able to move on from yes-no questions and asked him, 'what do you want to say?' " Hernandez recalled. "He said he wanted to write poetry and speak with his family and friends. I got to know him pretty well. He talked about politics, baseball and movies. And, one day, he tapped out, 'I feel great, optimistic, and want to get to the point where I can communicate consistently.' "
Senge said Hernandez's technical skills and resourcefulness "are amazing but, what makes it all work so well is his ability to listen to the needs of the client and focus on creating the best solution to address their accessibility needs. Roman is a very humble person, always willing to step up and help however he can."
Hernandez almost independently supports an adapted workstation network of 50 computers across the Fullerton and Irvine campuses, Senge said. "This is no small task. He must work with Information Technology staff at all levels to accomplish this while maintaining network security, reliability and accessibility to CSUF technologies for students, staff, and faculty with disabilities. His initiative can be seen every day as he goes about figuring out ways to address technical as well as accessibility challenges that go along with supporting such a unique computer network and diverse population."
For Hernandez, it's a quality of life issue.
"I really enjoy working in this field because I'm helping people through their technological struggles and I feel good when we're able to come up with good solutions," he said.
June 22, 2011