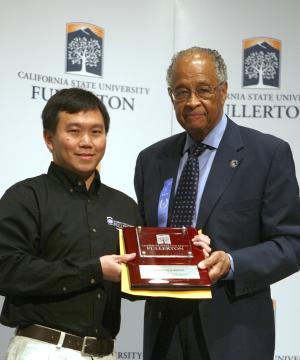 Caption: CSUF President Milton A. Gordon congratulates Wirawan Harjono for being named one of this year's Outstanding Staff Award recipients. Photo by Greg AndersenDownload Photo
Quiet and Hard-Working
Wirawan Harjono Wins Outstanding Staff Award
ANYONE ON CAMPUS who has recently dealt with student evaluations, registered a student club, arranged for a campus tour online, or applied for an intramural grant has probably seen the handiwork of Wirawan Harjono. Quiet and hard-working, this CSUF alumnus is known for listening to the type of internet program needed to help certain systems and projects work better and smoother — and coming through with the right solution.
Harjano is one of this year's trio of outstanding service award recipients. The award is the highest honor bestowed on a university staff member.
As an international student working in the Titan Computer Lab (on the first floor of the Pollak Library), Harjono was already proving his worth by assisting his fellow students in accomplishing what they needed. It was a perfect fit for the graduate student who was working on his master of science in computer science. And his efforts were recognized — shortly before graduation, he became a staff member in Information Technology.
"I am always looking for a good student assistant and when Wirawan's former manager recommended him, I hired him," said Kenara Ly, senior director of IT application development and support, who nominated Harjono. "Wirawan sets exceptionally high standards for quality of work in his software applications. He puts forth extra effort to ensure high-quality work and makes sure that his software applications are reliable, error free and reduces workload."
In addition to managing the online student opinion questionnaire, he not only simplified the process of developing result reports, Harjono came up with a creative way to periodically report response progress to department chairs and coordinators.
"He came up with an automated system that reminds departments that students are lagging in their online responses and to have faculty remind students to complete the surveys," said Ly.
The result is a dramatic increase in the responses — more than 200,000 evaluation form pages and 20,000 online responses are received each semester — and has generated inquiries from other universities who like the system and wish to integrate it on their campus, said Rommel Hidalgo, assistant vice president for Information Technology.
His attention to detail also was brought to bear on applications for intramural grants, which can now be done online with a seamless method of gathering comments and other materials, thereby streamlining and quickening the paper process. The Faculty Development Center is now working with Harjono on developing a similar system for their grant programs.
Similarly, Harjono has developed applications to automate membership lists, registration forms and documentation for student clubs and organizations, student engagement, and club sports — all examples of his technical skill and expertise used to service the rapidly changing technology needs of the campus community.
Whether working with a team, a group from across campus or on his own, "Wirawan consistently can be counted on to keep his promises. He lets his central values guide his actions," said Ly.
"I enjoy working in Information Technology and am happy to be recognized for my work with others," said Harjono, a Buena Park resident. "I hope to continue to use my skills and knowledge, creating and improving applications that make the work of students and my fellow staff members easier and better."
June 22, 2011