MISSing the Beach to Improve Math Skills
Junior and High School Girls Opt for World-Opening Math Studies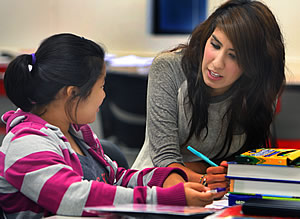 Chi Kieu of South Junior High School talks over a problem with MISS tutor Neha Arora, a senior biological science major and Project MISS alumna.
Nearly 170 girls from 34 high schools and junior highs in Orange and Los Angeles counties, as well as the Inland Empire, have spent the month of July forsaking the beach and other summertime haunts for Cal State Fullerton classrooms, studying algebra I and II, geometry and precalculus as participants in Project Math Intensive Summer Session.
Project MISS is the 20-year-old brainchild of David Pagni, professor of mathematics and hailed by the White House in 2005 as recipient of the Presidential Award for Excellence in Science, Mathematics and Engineering Mentoring.
For seven hours a day, Monday through Friday, Pagni's Project MISS participants are shown what to do by instructors, then turned loose to use their newfound knowledge to solve problems. They work cooperatively in groups, while instructors and tutors circulate among them, giving hints, answering questions and praising efforts.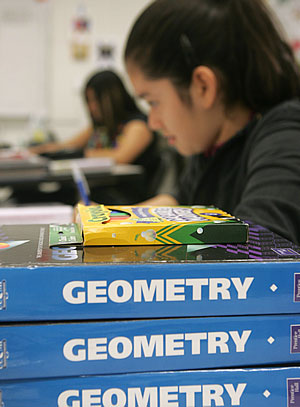 Project MISS instructors teach geometry, algebra I and II and precalculus throughout July to nearly 170 girls from Southland school districts.
About 1,200 girls have attended the National Science Foundation-funded program, and Pagni's involvement with these students continues after the summer sessions. Recipient of both the campus and California State University Outstanding Professor awards, Pagni will follow their future work and achievements. His statistics show that nearly 98 percent of Project MISS participants go on to college, "and they have a much higher than average completion rate once they enter a university," Pagni said proudly. In fact, many former participants who now attend Cal State Fullerton became instructors and tutors for the current Project MISS program.
"There are many talented girls out there, but for various reasons — cultural, social, whatever — they either don't get as many opportunities to study math as others or don't take advantage of it," said Pagni. "Mathematics is the gateway to the sciences, technology and engineering, as well as business and law, so if they can grasp mathematics, many career worlds open up to them.
"On another level, what we're doing is what coaches do. They track athletic talent from a young age so that by the time they're in high school, they know what each can do and can give them direction and advice. That's what we do with these girls," he added.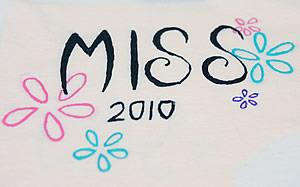 Participants create their own Project MISS T-shirts to keep.
"MISS worked for me," said Neha Arora, senior biological science major and MISS math tutor this summer. "When I was in the MISS program, it was because I was getting D's in math. Those four weeks in MISS cleared it up for me, and I got A's from then on. The instructors had us apply the math to real-world problems and it all made sense."
Maria Bernabe of Fountain Valley's Los Amigos High School said she was always good in math and loves it, but typically has been too shy to speak up in class. Her older sister, who enters Santa Ana College in fall, worked with her, "but now she'll be in college. I want to be in college; I want to be a mathematician and teach math.
"Now that I've been in MISS, I feel more confident. I can speak up now when I need to, and I can see what it's like to work with others," she said, indicating her seatmates Brenda Calderon of South Junior High, who wants to be a marine biologist, and Melissa Lopez of La Serna High School in Whittier, who aspires to be a veterinarian. "We work well together on everything."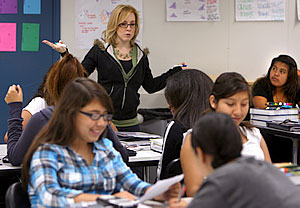 Tutor Kristen Long, who completed her teaching credential at CSUF, makes a point for Project MISS participants. The intensive CSUF summer program is designed to boost the math skills of junior and senior high school girls — some of whom grow to embrace math so passionately they go on to become math teachers.
Attendees' achievements will be heralded at a lunchtime gathering Friday, July 30, at the Fullerton Marriott, where students also will recount highlights of their Project MISS experience.
Project MISS 2010 participants from Orange County campuses, listed by city:
Anaheim
Brenda Guerrero, Karina Guerrero, Iridian Guevara and Naomi Sanchez from Anaheim High School
Michelle Kong and Hannan Yosof from Magnolia High School
Kenia Aburto, Beatriz Aguilar, Brenda Balderas, Alyssa Beard Mariscal, Lesly Caldera, Brenda Calderon, Carley Campos, Jessika Chavez, Alondra Contreras, Emily Coronado, Laura Espinoza, Kiara Ferrer, Karen Gonzalez, Lizette Hurtado, Chi Kieu, Thuy-Tien Lam, Jayda Lopez, Daisy Mancilla, Jacqueline Marquez, Martha Martinez, Jessica Perez, Wendy Razo, Mitzi Santiago, Stephanie Soperanez, Stephanie Suarez, Jonanaliz Vazquez and Maria Viveros from South Junior High School
Marlen Alcala, Karen Alvarado, Yuridia Antonio, Daniela Apaez, Xiomara Avila, Lindsey Casas, Astrid Ceren, Suk Chung, Kimberly Cisneros, Mirley Corona, Itzel Diaz Natalie Diaz, Estefani Galarza, Jocelyn Garcia, Emily Gonzalez, Stephanie Gonzalez, Jessica Guerrero, Patricia Juarez, Jennifer M. Lopez, Veda Lopez, Marlene Martinez, Eleonila Melendez, Rosa Mendez, Miriam Mendoza, Victoria Moody, Angela Munoz, Vanessa Munoz, Rachael Pauu, Ashley Roque, Tanya Ruedaz, Igcel Sanchez, Maria Serratos, Vanessa Torres, Cindy Truong, Agnes Tsang and Kassandra Valencia from Sycamore Junior High School
Fountain Valley
Maria Bernabe, Sheila Lauren De Guzman, Janel De Guzman, Antonia Diaz, Kimberly Dieu, Priscilla Fajardo, Andrea Farias, Melanie Frias, Cynthia Jacobo, Brianda Loeuk, Esther Olivarez, Mayra Ortiz, Jazmin Quijada, Melissa Ramirez, Elizabeth Ramos, Kimberly Sanchez, Guadalupe Sapien, Theresa Tran, Vanessa Villalpando and Deanna Zeferino from Los Amigos High School
Fullerton
Rachel Son from Sunny Hills High School
Garden Grove
Tam Dang, Melisa Luong, Mimi Nguyen and Bansari Patel from Bolsa Grande High School
Kortney Pham from Leroy L. Doig Intermediate School
Bichnga Do from Pacifica High School
Merari Santana and Van Vo from Rancho Alamitos High School
Maria Nguyen and Thu Nguyen from Garden Grove High School
Erika Alvarez, Jennifer Amador, Guadalupe Cervantes, Jessica Chamorro, Patricia Garcia, Vivian Garcia, Mayra Guadarrama, Jenny Hoang, Eve Martinez, Stephanie Ortiz, Anne Phung, Sandra Rodriguez, Yasmin Roman, Jennifer Salazar, Diana Tafoya and Daisy Vences from Santiago High School
La Palma
Carolina Villegas from John F. Kennedy High School
Newport Beach
Jennifer Martinez from Newport Harbor High School
Orange
Ashley Thompson from Lutheran High School
Jacqueline Garcia, Gabriela Martinez, Wendy Martinez, Kim Pham, Stephanie Prieto and Jessica Salazar from Orange High School
Placentia
Alynna Hernandez from El Dorado High School
Ana Arellano, Joselin Becerril and Angel Weber from Valencia High School in Placentia
Santa Ana
Nayeli Cisneros, Sophia Fausto and Yetmi Ortiz from Santa Ana High School
Hefziba Carbajal from Segerstrom High School in Santa Ana
Tustin
Erin Dykman from Columbus Tustin Middle School
Attendees from other Southland schools are:
Jesselle De Jesus and Paige Larkin from Cerritos High School
Brianne Leon, Vanessa Ramirez and Allison Santos from Ruben S. Ayala High School in Chino Hills
Angelica Zandra Macandili, Gabriela Madrigal, Wendy Salazar, Terry Tran and Tran Vu from Western Christian High School in Covina
Ahtziri Mora-Romero and Karen Payan from Downey High School
Miranda Esparza from St. Lucy's Priory High School in Glendora
Toni Castillo from Mayfair High School in Lakewood
Briana Bonilla, Jessica Duron, Tomei Johnson and Melanie Santos from La Mirada High School
Leslie Vallejo from Norwalk High School
Lisandra Uribe from Colony School in Ontario
Noemi Pasillas and Sabrina Pasillas from Pomona Catholic School
Gabriella Cecchini, Jazzmine Gonzales, Kassandra Hernandez, Michelle Jimenez, Alma Lopez, Lisa Lopez, Melissa Lopez, Deanna McMahan, Jocelyne Morales, Mackenzie Ralston, Taylor Wahl and Andrea Zamarripa from La Serna High School in Whittier
Also enrolled is Kenlyn Abrantes from the High School for Dual Language and Asian Studies in New York City.