Not Just a Wrap
New Bachelor's Degree in Athletic Training Now Available
May 5, 2009
By Mimi Ko Cruz
Students have been preparing for careers as certified athletic trainers through Cal State Fullerton's Athletic Training Education Program since it's creation in 1973.
Robert D. Kersey, center, oversees a therapy session with students Keasha Russell, left, and soccer player Jordan Dolbin in the university's athletic trianing clinic. Photo by Kelly Lacefield
Their success rate in passing the national certification exam on the first try: 75 percent. The national average is 30 percent.
So, it's fitting that the athletic training program has been approved to offer athletic training as a major, said Robert D. Kersey, professor of kinesiology and director of the program. Starting this fall, students will be able to select the discipline as a major and earn a bachelor of science in athletic training degree. Getting into the program has always been highly competitive and, Kersey said, it may become even tougher now.
"We get 20 to 40 applications every year from students all over the world," Kersey said. "We only admit six to eight, and we know we have a quality program."
Athletic training is recognized by the American Medical Association as an allied health profession.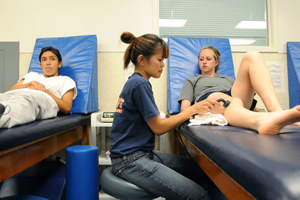 Monica Zepeda, a Titan soccer player, left, waits for her therapy session while student Midori Matsumoto, center, performs a therapeutic ultrasound treatment on soccer player Jordan Dolbin. Photo by Kelly Lacefield
According to the National Athletic Trainers' Association, certified athletic trainers -- typically employed in schools, professional sport organizations, sports medicine clinics, military units and some businesses -- specialize in preventing, recognizing, managing and rehabilitating injuries that result from physical activity.
While often seen preparing athletes for practice or competition on sports fields, athletic trainers do more than apply bandages, Kersey said. "We're not just taping ankles and applying ice."
He said students learn how to evaluate all kinds of injuries, develop conditioning programs and implement treatment and rehabilitation programs. At Cal State Fullerton's Athletic Training Clinic, where the university's athletes come for rehabilitation work, students perform various therapeutic modalities, including ultrasound and electric stimulation.
Because of misperceptions about athletic training, students recently produced a video about it.
Requirements
For consideration into the Athletic Training Eduation Program, students must have completed biology, chemistry, health science and related courses with at least a C grade and 100 hours of training under a certified athletic trainer.
Once admitted, students are provided with liability insurance, medical kits and supplies and most specialized clothing. They must complete 26 classes (72 units). The courses include instruction on strength and conditioning, nutrition, sport psychology, biomecahnics of musculoskeletal injury, physiology of exercise and five semesters of clinical practice in different settings.
Keasha Russell, who will complete the program next fall, said she has worked with various sports teams on campus, at local high schools and with team doctors.
"We learn complicated concepts and get to apply our knowledge in the field," said Russell, who plans to pursue a master's degree in kinesiology. "It's super exciting. Dr. Kersey treats all the students like family and we're all a team in athletic training. I know I'll find a great job after I graduate."
Alumni who have competed the program over the last three decades include head athletic trainers for professional sport teams, universities, high schools and corporations worldwide. They include Armando Rivas, head trainer of the Los Angeles Galaxy soccer team; Nina Hsieh, head trainer for the Defenders, an L.A. Lakers developmental team; Sandy Shultz, associate professor of exercise and sport science at the University of North Carolina; and Miguel Pedroza, a physician at Ventura County Medical Center. Others teach at universities and work for corporate sport teams in Japan and other countries.
"The quality of this program is noteworthy for its talented students, successful alumni and award-winning faculty," said Roberta E. Rikli, dean of the College of Health and Human Development. "Now that students will be able to major in athletic training, we hope people will recognize it for the phenomenal program that it is, and learn something about the rigorous training we provide future athletic trainers."
For more information, visit the athletic training website.