County Residents Support CenterLine Plans
Updated September 25, 2003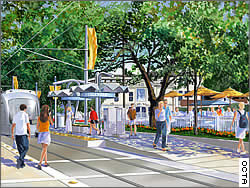 Artist rendition of the proposed CenterLine light rail system in downtown Santa Ana.
---

Fifty-five percent of Orange County residents favor building a light rail line from Santa Ana to John Wayne Airport, according to survey findings reported last week by the Center for Public Policy in cooperation with the Orange County Business Council.
In a telephone survey of 506 county residents, polled between Aug. 26 and Sept. 10, respondents agreed or strongly agreed that light rail should be part of the mix of Orange County transportation and that building light rail, even for a short distance, could serve as a starter for the future. The survey was conducted by the university's Social Science Research Center.
"Perhaps the most interesting observation is the agreement with the concept of light rail, on what we might call a philosophical level," said Keith Boyum, center director and associate vice president of academic programs. "Respondents agree that light rail should be part of the mix and six out of 10 say they'd like to be trolley-riders themselves. However, these are not riders of public transportation. They like the idea of light rail.
"What people like in concept is frequently not what they want in their backyards. In Irvine, residents voted no on CenterLine – not as a concept but as a proposed set of rails in neighborhoods."
"When people are presented with details about the light rail proposals, Orange County residents are supportive of such a transportation option, even when their personal experiences have been conditioned by an 'automobility' of freeway dependency," added Ray Young, professor of geography.
Although the survey was thorough, it cannot predict a hypothetical vote for rail. Variables such as voter turnout, budgets, the line-up of candidates and other issues on the ballot could affect the outcome of the CenterLine project, noted Boyum, a professor of political science. However, respondent attitudes were probed with researchers mimicking, at least in part, some of the information that a campaign about CenterLine might evoke. In fact, many residents weren't that familiar with the CenterLine proposal. Respondents also were more likely to support light rail if it required no new taxes and if later extensions would serve more areas of Orange County.