Putting on a Happy Face
Volunteers Bring Dental Care to Children and a Face Lift to Their School in Mexico
January 12, 2010
By Pamela McLaren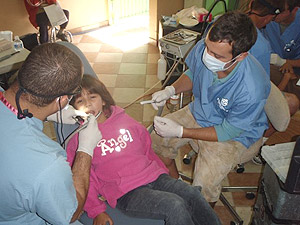 Cal State Fullerton alumnus Mark Rossi, right, assists a USC dental student during a recent Rotary-Dental Care for Children visit to a school in Ensenada, Mexico.
Students are smiling at an elementary school in Ensenada, Mexico, thanks to a visit from a group of volunteers that included three Titans: Ray L. Benedicktus, assistant professor of marketing, and 2009 business administration-marketing alumni Mark Williams and Michael Rossi.
What began as a networking venture for the faculty member evolved into a chance for all three to help disadvantaged neighbors. It was an opportunity they eagerly embraced.

Their volunteer group, organized by the Rotary Club, included businessmen and dentists who converged on the small community, providing more than $24,500 worth of dental care, including exams, sealants, fillings and extractions for more than 50 children. The Southern California volunteers also repainted the block walls of the school, which were covered with graffiti.
"I'd never been to Mexico before," said Benedicktus, who joined the Irvine Spectrum Rotary Club last year to connect with area businesses. "I really enjoyed the experience."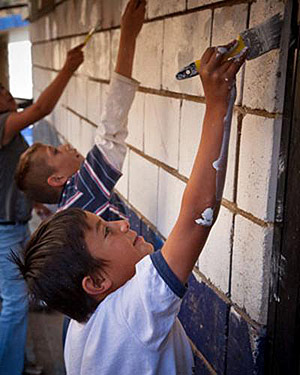 Elementary school children join in the effort to paint their school during a visit from the Irvine Spectrum Rotary Club and Dental Care for Children. The two organizations traveled to Ensenada to provide free dental care to the children and to help improve the school.
Benedicktus invited Rossi, an alumnus and M.B.A. student who works as a strategic marketing and research consultant for Artemis Crane Consulting, to join him in the adventure. Rossi brought along Williams, who is completing an internship with Nickelodeon.
"Heading down to Mexico, I was just grateful to be a part of an opportunity to help out children much less fortunate than me," said Rossi. "All throughout my life, I have always had access to a top-notch education, and this has greatly influenced the person I am today. I wanted to help provide those same opportunities for the young students of Ensenada in any way possible."
"As we drove in," said Benedicktus, "there was this kid who spotted my jeep and followed us to the location. He helped out with the painting and was there all day. I think it was really great. The painting project became a communitywide effort where some of the moms and kids worked right along with us."
"I was definitely surprised at the role I was able to play in putting a smile on the young children's faces," said Williams. "Going into the project, I had anticipated simply painting school houses and possibly helping children with paperwork.
"Upon arrival, there were many kids who were eager to receive dental services — many without parental pressure. After the dentists and dental students had set up their equipment, the first children were seen and several children began to cry, a natural occurrence with dentists and children," said Williams. "As many of us waited for the paint to arrive, Mike and I asked if there was anything we could do to help."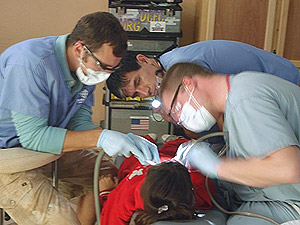 Because Cal State Fullerton alumnus Mark Williams, left, speaks Spanish, he was asked to assist the dental team as they were providing treatment to Ensenada children. Members of the Irvine Spectrum Rotary aided the dental group and also spruced up the neighborhood school.
Since Williams speaks Spanish, he was asked to assist the dentists and assistants in communicating with the kids. "It made me feel a special connection with many of the children, as I worked to calm their nerves and make them feel comfortable throughout the procedure."
Later on, Williams also learned to place sealants on the children's teeth. "I couldn't believe that my original thought was that I would be painting, and next thing I know I'm in scrubs with latex gloves doing a sealant. It was such an amazing feeling."
"Although our time in Ensenada was brief, I am confident we were able to make a lasting impact on many of the children," said Rossi. "By the looks in their eyes and the smiles on their faces, I knew that we had done a great thing for the many children of the small town. The experience was humbling and yet refreshing. I was amazed to see how little effort it took for us to make a large impact on the lives of those children; I will without a doubt be participating in future trips."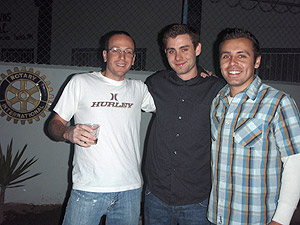 Ray L. Benedicktus, assistant professor of marketing, joins alumni Mike Rossi and Mark Williams during a dinner at the local Rotary Club following a day of tending to the needs of 50 Ensenada children and their school. All three say they look forward to more service-learning opportunities.
"This was my first international community-service experience," said Benedicktus, who previously has been involved in other community organizations. "It was a natural fit and one that allowed me to help others while getting to know my fellow Rotary members and those from Mexico."
"My only thought at the end of the day was, 'wow, that was so refreshing'," said Williams, whose previous community-service work was a team project with the Fox Theater Restoration Project. "It was a great feeling knowing I had contributed to helping so many children that otherwise may have not been able to receive treatment; it was a reward in itself."