Natives Are Back
Grant Funds Replanting of Native Vegetation at Tucker Wildlife Sanctuary
July 27, 2010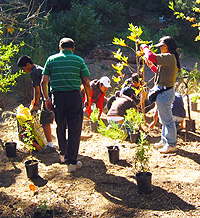 Volunteers plant native vegetation near Santiago Creek at Tucker Wildlife Sanctuary.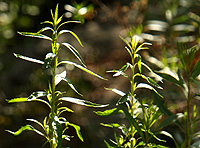 Mulefat is one of the varieties of native plants that was restored at the Tucker Wildlife Sanctuary in Modjeska Canyon. Photo by Karen Tapia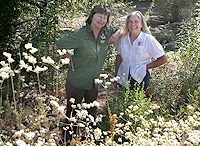 Tuckerís site manager, Marcella Gilchrist, left, shares a light moment with Patisu Lambert, Tuckerís native-plant specialist. In the foreground is California buckwheat. Behind them is mulefat. Photo by Karen Tapia.
Native California vegetation recently made a return to a wide swath of Cal State Fullerton's Tucker Wildlife Sanctuary.
Much of the vegetation from the bed of Santiago Creek to the nearest slopes of the Santa Ana Mountains was lost in the 2007 Santiago Fire and the May 2008 flash flood. The affected area was quickly invaded by aggressive non-native plants that provide few resources to the local wildlife, but thanks to help from hundreds of volunteers who contributed more than 1,600 hours of work, dumpsters full of non-native amaranth, Spanish broom, mustard, grasses and tamarisk were removed.
Eagle Scout Alex Krebs of Troop 110 in Anaheim led 52 volunteers in restoring a major portion of the disturbed habitat for a scout project. Other restoration events included Cal State Fullerton students participating through the Volunteer and Service Center's Project Earth, from Disney's "Work a Day, Get a Day" program, and several Orange County community volunteer groups, including Temple Beth El in Aliso Viejo.
Nearly 2,000 non-native plants were replaced with native shrubs, willows, mulefat and sycamores.
The effort was funded by an $8,500 grant from the Southern California Wetlands Recovery Project's Community Wetlands Restoration Grant program. The grant also funded educational trips to Tucker for hundreds of low-income students from Orange County elementary middle and high schools.
Funding also went toward a monitoring program staffed by volunteers to track the newly planted vegetation's flowering and fruiting activity. Contributors to the project also included Clark and Green Landscape Architects, Shadetree Partnership, Tree of Life Nursery and Rain Bird Irrigation.