Troy Zimmer Dies at 69
Sociologist Remembered as Caring Professor, Mentor, Colleague
August 31, 2010
By Mimi Ko Cruz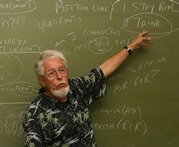 Troy Zimmer
The distinct scent of Calvin Klein's Eternity for men wafting through the air of the Sociology Department floor signaled the presence of Troy A. Zimmer, beloved mentor and professor of sociology.
"As soon as I smelled it, I'd get this warm feeling," said Burrel J. Vann Jr., a sociology graduate student. "I was going to see my mentor, my friend. I could always go to him and talk to him about anything, and he always greeted me, and everyone, with a smile on his face. I loved every one of his classes. He really taught people how to use our energies wisely, seeking a positive outlook on life. It's going to be hard to get on without him."
Zimmer died Aug. 25 at the age of 69. The cause of death is being determined. Per his wishes, no funeral or memorial services will be held.
Joseph A. Weber, chair and associate professor of sociology, said Zimmer taught his first class of the fall semester on Aug. 23, and then sent an e-mail the next night, indicating he had a cold and wanted to cancel his Aug. 25 classes.
"Dr. Zimmer encouraged students to think outside the box," Weber said. "He generated a lot of enthusiasm and excitement among students, and he loved assisting younger faculty members as they went through the tenure process. He spent long and tedious hours helping them organize their portfolios. He was a wonderful colleague."
There was no other professor in the Sociology Department "whose office hours were more well attended than Troy's," said Dennis F. Berg, emeritus professor of sociology. "He had students in his office constantly. He was the faculty model for teaching and advising and counseling students, spending hours meeting the demands of students he motivated to learn. In all my years in the department, I never heard students do anything other than rave about his classes. He was without a doubt magic in the classroom."
Born Oct. 30, 1941, Zimmer lived in Tehachapi with his wife and only survivor, Janice Oshio Zimmer.
He joined Cal State Fullerton's faculty in 1971, the same year he earned his doctorate in sociology from Ohio State University. He taught classes on social interactions, communications, collective behavior, emotions, theory and political sociology.
Zimmer, a Vietnam War veteran, was writing a book dealing with the search for truth and reality. His research over the years focused on society and terrorism, mass media influence, voting participation and paranormal beliefs.
Students raved about Zimmer's social interaction class, even credited it as life-changing.
"All of the information in that class about positivity, seeking truth and reality, really helped me in my relationships and in my life," said Vann (B.A. sociology '10), recalling Zimmer's class in fall 2007. "It was one of those classes that is a pivotal moment. I began to think about my life and what would make me happy. That semester, I committed to sociology as a major."
After that class, Zimmer became Vann's mentor.
"We connected on many levels," Vann said. "Sometimes, we would leave class discussing theories of collective behavior all the way to his office. We'd get there, he'd sling his bag by his desk, say, 'have a seat,' and walk over to his radio and turn on classical music. We both love classical music. We'd talk about everything, our lives, research, new books in social movements and even our relationships. I have lost more than a professor. I have lost a dear friend."
Condolence cards may be sent to Zimmer's widow at PMB-211, 25101 Bear Valley Road,Tehachapi, CA 93561-8311.