Preparing Future Science Educators
Statewide Report Examines Readiness for Teaching K-6 Science
August 17, 2010
By Debra Cano Ramos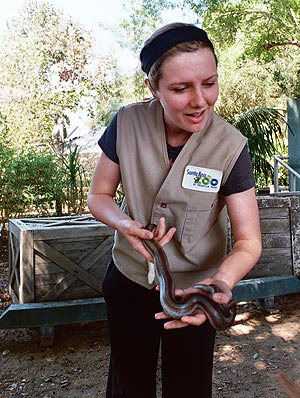 Sarah Easterbrook displays a snake. The Cal State Fullerton credential student participated in the Promoting Resources in Informal Science Education internship program last summer at the Santa Ana Zoo.
Cal State Fullerton continues to strengthen and expand its efforts to prepare K-6 teachers to teach science.
In a recent report by the California Council on Science and Technology, the university's science education programs are highlighted as "promising" examples of approaches being taken to prepare educators for teaching science in elementary school classrooms.
Victoria B. Costa, the university's director of science education and professor of secondary education, said that the university has made strides to develop programs to improve the preparation of elementary school teachers to teach science.
"The end result is that their young students will become more excited about learning science because of dedicated and well-prepared teachers," she said.
The report authors examined the state's process for preparing elementary school teachers to teach science. Their study concludes that California's elementary school teachers feel less confident in teaching science, resulting in the need to improve K-6 teacher preparation.
One example of Cal State Fullerton's efforts to enhance elementary teacher preparation and increase confidence in teaching science is the integration of kit-based science resources into courses, Costa said.
"By using this approach, future teachers utilize materials that emphasize inquiry and investigation, which helps them develop a high level of expertise in teaching K-6 science," she added. "Research also suggests that K-12 students who receive inquiry-based science instruction score better on standardizes assessment than those who don't."
Costa explained that the National Academy of Science and the American Association for the Advancement of Science emphasize that science is best learned through hands-on inquiry. This method also makes learning science exciting and interesting — beyond the limitations of a textbook.
"Young students learn more through the process of 'doing science.' They master concepts from experience rather than from just reading, listening to lectures or watching demonstrations," Costa said.
"Students actually use scientific terms to communicate; terms are not merely read and memorized. With a focus on inquiry, commercially prepared science kits offer multiple opportunities to collect and interpret information, build vocabulary and to think critically using approaches that actively engage students both mentally and physically. They also provide teachers with easy access to materials, instructional strategies, student activities and supporting resources."
Commercially prepared kits introduced in the university's science education programs to give future elementary school teachers the tools to successfully teach science include Beckman@Science kits, established through a grant by the Arnold and Mabel Beckman Foundation, and Delta Education's FOSS program, which includes Seeds of Science/Roots of Reading and Science in a Nutshell kits.
Teacher candidates also will be introduced to the Jason Project science curriculum units, which are kit-based and also include digital labs and simulations, Costa said.
Science Education Internships
Another avenue that gives credential students hands-on practice and understanding of teaching science concepts — before they land jobs in the classroom — is the Promoting Resources in Informal Science Education paid internship program.
Funded by a Boeing Foundation grant, the program is being offered this summer, for the second year, to future K-12 teachers. Teacher candidates are interning at a variety of informal science education centers across Orange County, including the Discovery Science Center, Fullerton Arboretum, Irvine's Great Park, Newport Back Bay Science Center, Ocean Institute and Tucker Wildlife Sanctuary.
Advancing Science Education
For more than three decades, Cal State Fullerton has developed degree and credential programs, courses and grant projects to boost the training and knowledge of science concepts to teach the discipline at the elementary, middle and high school levels.
One such effort was the establishment of a master of arts in teaching science program, which provides advanced course work in science curriculum to give teachers a solid understanding of science content and science learning. The MAT-S graduate program is offered to elementary and secondary education teachers. An online version of the degree program that launched in fall 2009 has increased access to the program and emphasized ways to use technology to support teaching and learning science, Costa said.
She cited some of the university's latest initiatives to advance the teaching of science:
The Center for Careers in Teaching has developed an academic plan so that students majoring in liberal studies or child and adolescent studies — common undergraduate majors for future elementary teachers — can add a minor in natural sciences.
Offered in the College of Natural Sciences and Mathematics and based on a collaboration of four academic departments, the minor in natural sciences includes 18 units in inquiry-based science concepts taught through the prism of elementary student learners.
The Teacher Recruitment Project has created the "Multiple Subject and Beyond" campaign to encourage elementary teacher candidates to complete requirements for a foundational-level general science credential, launched last fall to strengthen science teaching.
Science methods courses have been enhanced to engage elementary teacher candidates in inquiry and investigation by providing them with a K'NEX rubber band racecar kit. Plans are to expand the use of kit-based science in K-8 science methods courses this fall.
Graduate students are engaged in scientific discourse to enhance both their science knowledge and literacy skills.
A new online foundational level general science credential program (to begin fall 2011) focusing on grades 5-9 will emphasize science content by engaging teacher candidates in direct experiences in hands-on inquiry and use of the scientific processes through kit-based science resources.
Partners Generate Study
The California Council on Science and Technology worked with the California State University Center for Teacher Quality to complete the study, "The Preparation of Elementary School Teachers to Teach Science in California: Challenges and Opportunities Impacting Teaching and Learning Science." The 18-month effort was funded by the S.D. Bechtel Jr. Foundation.
More information about Cal State Fullerton's science education programs is available on the web at http://nsm.fullerton.edu/scied and http://catalyst.fullerton.edu/projects.asp.
Related articles:
CSUF Joins National Drive to Increase Math, Science Teachers
Future Teachers Perform Research Outside the Classroom
Grant to Support Future Secondary Chemistry, Biology Teachers
Making Science Easy to Grasp
---
Media Contacts:
Victoria B. Costa, Science Education, 657-278-2307 or vcosta@fullerton.edu
Debra Cano Ramos, Public Affairs, 657-278-4027; 657-278-2414 or dcanoramos@fullerton.edu