Wildfire on Display
Oral History Project Documents Experiences of 2007 Santiago Fire
June 29, 2010
By Mimi Ko Cruz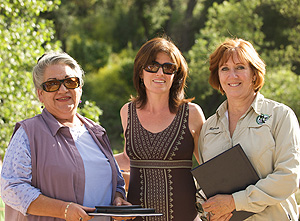 Natalie Fousekis, director of Cal State Fullerton's Center for Oral and Public History, center, handed copies of he center's 2007 Santiago Fire oral histories to Lucille Cruz, librarian of Orange County's Silverado Branch Library, left, and Karon Cornell, director of the Tucker Wildlife Sanctuary. The library and the sanctuary will make the oral histories available to the publlic. Photo by Stephen Weissbart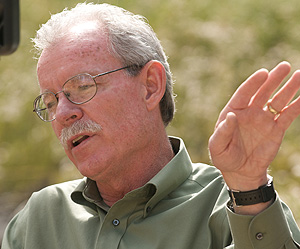 Modjeska Canyon resident and volunteer firefighter Bob Scheibel tells about his experience with the Santiago Fire during a June 12 panel discussion at Cal State Fullerton's Tucker Wildlife Sanctuary. Photo by Stephen Weissbart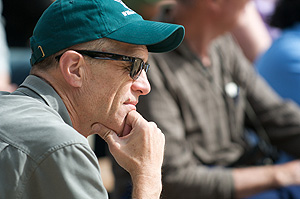 John Olson listens to residents recall their experiences with the Santiago Fire. Photo by Stephen Weissbart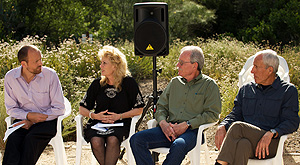 From left: Volker Janssen interviewing Deborah Johnson, Bob Schiebel and Bruce Newell. Photo by Stephen Weissbart
When the ball of vicious flames jumped the road into Modjeska Canyon, even the firefighters sensed doom ahead.
"We really thought that all was lost," said Bob Scheibel, a long-time Modjeska Canyon resident and volunteer firefighter in the area, recalling the 2007 Santiago Fire that scorched more than 28,000 acres.
Fourteen homes were lost in the canyon during that blaze that authorities believe was set by an arsonist on the Santa Ana wind-swept evening of Oct. 21 nearly three years ago. The fire was contained 19 days later. The arsonist was not caught.
Scheibel and some of his neighbors shared their 2007 Santiago Fire experiences with Volker Janssen, assistant professor of history, who recorded 19 oral histories as part of Cal State Fullerton's Center for Oral and Public History "Gone Through Fire: Modjeska and Silverado Canyons and the 2007 Santiago Fire" project.
Janssen and some of the oral history narrators recently gathered at Cal State Fullerton's Tucker Wildlife Sanctuary, in Modjeska Canyon, to talk about the fire and how it affected them.
The oral histories are available online.
The narrators speak about the beauty of the canyon, why they live there and why they stay even with threats of wildfire and floods. They share their experiences during the 2007 Santiago Fire and what they learned about being better prepared for the next disaster.
The narrators include:
A 15-minute video, featuring excerpts from the oral histories, is part of an exhibit on display at Tucker. Visitors can view that video and see and read about the area and how the 2007 Santiago Fire affected it. In addition, the oral history transcripts and videos are available there and at Orange County's Silverado Branch Library, as well as at the Center for Oral and Public History, which is located on campus in Pollak Library.
More than a collection of personal experiences, the Santiago Fire brought out the strengths and weaknesses of a community unique in Southern California's landscape, said Natalie M. Fousekis, associate professor of history and director of the Center for Oral and Public History.
Originally established as silver and coal boomtowns in the 1870s, she noted, Silverado and Modjeska canyons became home for a few ranchers, an early retreat for naturalists, and a vacation spot for families.
"Today, canyon residents are economically diverse, overwhelmingly white, and include former hippies and liberal Democrats as well as radical libertarians and Ronald Reagan Republicans," Fousekis said. "In the interviews, they share their enthusiasm for face-to-face community life, their thoughts on the deterioration of community elsewhere in Southern California, their political struggles with the county, the disconnect between 'downtown' people and nature, their misgivings about 'outside' visitors and their concerns about suburban expansion in which many of them also made their living as architects, planners, civic engineers and real estate agents."
Oral histories, she added, contribute to the "vast historical record and rich collective memory of Orange County. They also engage the communities in which we live in conversations about important events and memories."
The Center for Oral and Public History collects and preserves the stories of distinctive individuals and diverse communities whose historical experiences have shaped Southern California, defined national and transnational identities, and reflected life in an era of globalization, Fousekis noted.
It "seeks to combine the strengths of oral history and public history in order to build better connections between Cal State Fullerton and the communities — local, national, and global — to which it is tied," she said.
Adjacent to the Cleveland National Forest in the heart of Modjeska Canyon, Tucker Wildlife Sanctuary's mission is to support science and environmental education and to preserve local native habitat and wildlife. It is open to the public and serves thousands of students annually.
The center and the sanctuary have been working together since 2008 on the wildfire oral history project, which was funded by a $10,000 California Stories Grant from the California Council for the Humanities.