Preserving the Past
CSUF Managing Orange County's Archaeological and Paleontological Collection
August 17, 2010
By Cathi Douglas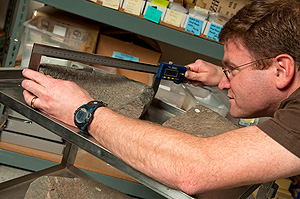 Professor Ed Knell measures an artifact. Photo by Jeanine Hill
All it took was one crack of Indiana Jones' whip and Ed Knell was hooked. Being an archaeologist like in the 1981 film "Raiders of the Lost Ark" was exhilarating, sensational, and combined Knell's love of puzzles and fascination with mysteries.
Years later, Knell — today a Cal State Fullerton assistant professor of anthropology — is embarking on the discovery of a lifetime. Like Jones, he is unearthing ancient artifacts never before seen by modern man.
Knell and a team of other university scientists are involved in the curation and preservation of Orange County's vast archaeological and paleontological collection, portions of which date back 60 million years. The collection includes artifacts, – such as grinding stones and hand stones about 8,000 years old, and fossils, including fully articulated marine life tens of millions of years old.
"This tells us about the past in Orange County," Knell said. "It is a nice snapshot of the suite of historic behaviors that capture the past. It gives us a better understanding of where we live."
For the past 35 years, the county of Orange has collected hundreds of thousands of artifacts, specimens and objects associated with archaeological and paleontological investigations throughout the county.
A December 2009 agreement between the county and Cal State Fullerton authorizes the university to assume day-to-day management and curation of the county's Archaeological/Paleontological Collection and provides funds to help underwrite the work through 2013.
Cal State Fullerton will provide separate professional archaeological and paleontological teams supplemented by volunteers to study and prepare items for eventual public display.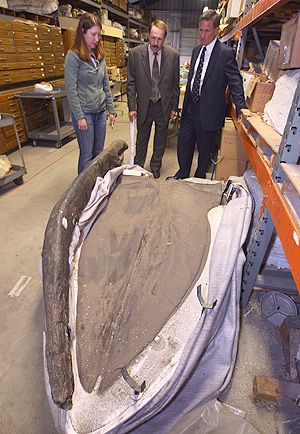 Meredith Rivin, left, John Sterling and Gary Mason check out an ancient whale jaw in Orange County's artifact collection. Photo by Karen Tapia
The collection will remain at an archaeological and paleontological center owned by OC Parks in Santa Ana. The center, now undergoing renovation designed to enhance curation work, is named in honor of the late John D. Cooper, a professor emeritus of geological sciences, who was dedicated to preserving the collection.
In support of the effort, the Cal State Fullerton Philanthropic Foundation board has adopted the archaeological and paleontological project as one of its fundraising initiatives, striving to support the initial curation activities and fund long-term goals, such as the public display of artifacts and fossils.
"Engaging in the important work of preserving our past and bringing it to life presents an unparalleled opportunity for students in college," said Pamela C. Hillman, vice president of University Advancement and the foundation's executive director. "As these prospective geologists and anthropologists join accomplished educators and other professionals, the result is an amazing and enriching academic experience."
Understanding the past means affording these students, researchers and the public opportunities to study the collection. Depending upon available funding, the collection will be shared in the future at exhibits and in K-12 classrooms, including through a mobile dig trailer — a customized museum on wheels — and an interactive website. Ultimately, the university will seek an endowed chair to manage the effort with optimum effectiveness and maximize opportunities for the public to access and understand the collection.
"The university is the ideal partner in this effort," said OC Parks Director Mark Denny (B.A. political science '92). "With the only program of its kind in Orange County, this is a unique public partnership. Ultimately, there will be terrific public benefit."
In addition to support from the county, private financial support will play a critical role in ensuring the success of the initiative. Current fundraising plans call for $1 million for purchase and outfitting of the mobile dig trailer, and $100,000 annually to operate the trailer. Following the initial efforts, attention will be paid to an endowment to ensure the long-term viability and growth for the initiative.
"This collection has worldwide significance, with perhaps the most spectacular finding of marine mammals, including unique species," said John Foster, professor of geological sciences. "It indicates the importance of our heritage, the development of our society. It shows us the sequence of life."
The collection features marine life – such as whales, porpoises and sea lions – not found anywhere else, including evolutionary links, noted Nicole Bonuso, assistant professor of geological sciences. "This collection shows us a unique part of our deep-time history," she said. "It shows us what this place looked like 60 million years ago. We're talking about tens of millions of years – that vastness of time is hard to grasp."
Lifetimes of research could stem from the collection, said David Bowman, associate professor and chair of the Geological Sciences Department.
"This is an amazing, world-class collection of fossils representing an unparalleled collection of marine life from that time period."
Related Story: