$1.3 Million for Future Teachers
Students On Track to Teach Math, Science, Special Education
April 13, 2010
By Debra Cano Ramos
Oscar Delgado and Melby Escobar attended Santa Ana schools and both are on track to teach special needs students in their hometown.
For them, their dream of becoming a teacher is being made possible through Cal State Fullerton's "On-Track: Transition to Teaching" program, which is funded by a $1.3 million U.S. Department of Education grant.
The 86 program participants — nearly half of which are Hispanic — are working toward earning state certification to teach special education, mathematics or science. The math and science focus reflects the university's renewed emphasis on increasing student interest in the STEM fields — science, technology, engineering and mathematics.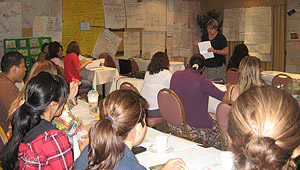 Sandra Alaux, Cal State Fullerton lecturer in secondary education, is an instructor of the "On-Track: Transition to Teaching" program, funded by a $1.3 million grant from the U.S. Department of Education.
---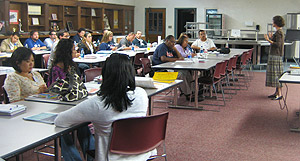 Beth Lasky, a special education professor at Cal State Northridge and expert on English as a second language instructional strategies for teachers of underachieving students, recently spoke to the students in the "On-Track: Transition to Teaching" program.
---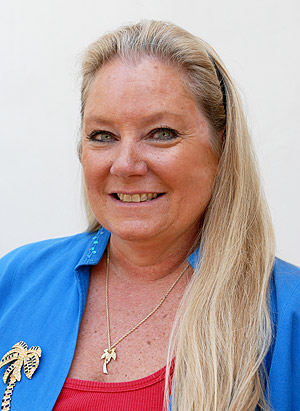 Belinda Dunnick Karge is a professor of special education and director of the "On-Track: Transition to Teaching" program.
The goal is to recruit and train up to 125 individuals to become credentialed teachers in one of these high-need subject areas by the end of 2011, said Belinda Dunnick Karge, professor of special education and program director.
"Through this innovative teacher preparation program, we want to increase the number, and the quality, of educators teaching pre-K-12 science, math and special education," Karge said.
"What we're trying to do is to attract individuals into teaching — people who normally wouldn't choose the profession — to teach in these hard-to-fill positions."
On-Track: Transition to Teaching is a collaboration between the university's College of Education and Santa Ana Unified School District.
Additionally, the program's focus is to train individuals to be well prepared and committed to teaching in hard-to-staff schools where a large number of the students are from low-income families and live in high-poverty communities.
Many teacher candidates in the program grew up in Santa Ana and view teaching as an opportunity to give back to that community, Karge said.
"What we're trying to do is instill a passion to teach children who come from poverty backgrounds. By having highly-qualified teachers serve the target school populations, we can raise the bar on student academic success," she added.
Once program participants receive their teaching credentials, they must teach in Santa Ana Unified School District, or another high-poverty district, for three years.
Escobar, who is working on a master's degree in special education, wants to teach in Santa Ana, where she and her family have lived for 14 years since emigrating from Guatemala.
"I feel connected to the people and the students since we share the same culture and experiences," she said.
Scholarships and Support
Students accepted into the program receive a scholarship of up to $5,000 to pay for university fees, books or other college expenses.
To be eligible for the program, students must be a teaching paraprofessional (also known as a teacher's aide or educational/instructional assistant), a recent college graduate or someone who wants to change careers and become a teacher, Karge said.
While in the On-Track program, credential students work at a Santa Ana elementary, middle or high school, and they receive hands-on classroom experience and mentor support.
"The program provides rigorous, high quality training and accelerated preparation leading to a teaching certification," Karge explained.
Extra opportunities provided to On-Track students also are a huge benefit, noted Tara Barnhart, lecturer in secondary education, who is involved in the program.
Credential students can participate in a range of professional development activities, including attending seminars with experts in their respective fields and regional conferences related to special education, math and science, Barnhart said.
Other advantages include systemic support from both Santa Ana Unified School District's veteran teachers, who serve as mentors, as well as university faculty members who regularly visit district classrooms and provide other assistance to the teachers-in-training.
"The students in the scholar program have a multitude of support available to them," said Cheryl Creager, coordinator of student support. "The students have access to personal support via a 24/7 hot line and e-mail. They can get assistance regarding any issue they may be facing. This kind of support is very important for new teachers during their first years of teaching."
Another program strength is the camaraderie the students have with their peers, Creager said, adding "our monthly meetings provide a great opportunity for the students to discuss issues and 'compare notes' regarding challenges they may be facing in their classrooms."
For new teachers, having extra support from Cal State Fullerton faculty members, district teachers and peers is key to success in the classroom, said Escobar.
"I feel it's important to have all the support possible. I'm fortunate to be part of this incredible program since it gives me ample opportunities to keep learning," Escobar said. "I still have a lot to learn, but most importantly, I want my students to do well academically and socially."
On-Track scholar Delgado, who is working on a master's degree in special education, added that he too wanted to be in the program because of the additional training and extensive support.
"This program and the support services offered have helped me a lot to become the best teacher possible to serve students with special needs," Delgado said.
Other faculty members involved with the program include Sandra Alaux, Cal State Fullerton lecturer in secondary education, and Cheri Whitehead, Santa Ana Unified School District liaison.
For more information about the program, visit http://ed.fullerton.edu/sped/OnTrack/index.htm.
Media Contacts:
Belinda Dunnick Karge, 657-278-3760 or bkarge@fullerton.edu
Debra Cano Ramos, Public Affairs, 657-278-4027; 657-278-2414 or dcanoramos@fullerton.edu