Oil Spill Art
Terracotta Sculpture Depicts 1989 Exxon Valdez Disaster
June 29, 2010
By Mimi Ko Cruz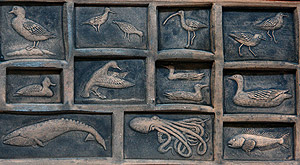 A close-up view of the sculpture's carvings. Photo by Karen Tapia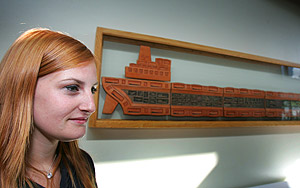 Katie Johnson views "Exxon's Ark I" as a reminder of the kind of man-made disaster that "should not be repeated." Photo by Karen Tapia
Anthony Aguirre, a child and adolescent studies major, often stops to examine "Exxon's Ark I," a terracotta sculpture by David K. Morgan in the Titan Student Union foyer.
The piece, a 12-foot replica of the Exxon Valdez, reflects on the ecological impact of the tanker's oil spill in 1989. Those involved or affected by the disaster that blackened Alaska's Prince William Sound with 240,000 barrels of crude oil from Exxon Valdez' ruptured hull are detailed in wood blocks. There were some 100 wildlife species affected.
"That was a calamity," Aguirre said. "I think oil companies need to recognize that these accidents could and should be avoided."
He said today's BP oil spill in the Gulf of Mexico is another example of how humans can devastate the Earth's ecosystem. One of BP's drilling rigs exploded in April and government officials say that as much as 60,000 barrels of oil have been flowing into the Gulf daily, making it the largest oil spill in American history.
"This is our planet and there should be a sense of partnership and stewardship with our environment," Aguirre said. "We need to protect it. That's what this art piece says to me."
Morgan sculpted "Exxon's Ark I" in 1992 and won the California State University system's top student research award for it. He also won a contest that made it part of the Titan Student Union's permanent art collection.
Morgan, who earned an M.F.A. in 1994 and a master's degree in art in 1991 from Cal State Fullerton, as well as a bachelor's degree in wildlife management from Humboldt State University, combined his interests in wildlife and art when he created the piece. At the time, Morgan said he wanted his work seen as a reminder of the perils of humans and wildlife in conflict.
Today's crisis in the Gulf of Mexico makes Morgan's piece more timely, said Katie Johnson, student coordinator of Cal State Fullerton's New Student Programs, who recently stopped to look at "Exxon's Ark I."
"Man keeps making these errors," she said. "We need to avoid catastrophic errors like these and we need to learn. This kind of disaster should not be repeated."