Lifelong Education Honored
Holocaust Survivor Is Graduating From Cal State Fullerton
May 11, 2010
By Russ L. Hudson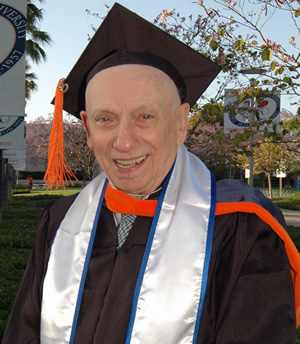 Ralph Montview is this year's OLLI award winner. Photo by Peggy O'Donnell
The old curse goes: "May you live in interesting times." Ralph Montview did … and survived. Now he lives to be interested. He believes that saved his life.
The 79-year-old Anaheim resident, who graduated from Cal State Fullerton last month with a master's degree in civil and environmental engineering, is this year's Osher Lifelong Learning Institute Award winner.
The award honors an outstanding older graduate who personifies the importance of continued learning and sharing knowledge. It was presented to Montview during the university's Honors Convocation May 21.
"The OLLI Award is an honor. I will cherish it," Montview said. "I hope whatever I've done can inspire someone else …. I'm here because this university is the temple of knowledge. Books are my teachers, but so is everyone I meet. All have something to teach. I feel energized coming here."
Montview's early education was mostly outside a classroom. Once he tasted classroom education, though, he pursued it through all hardships, going to school when he could and sometimes teaching.
His family were Polish Jews. The Nazis killed his mother and enslaved his father, throwing him on the streets at the age of 8. For the next eight years he alternated between the streets, orphanages and refugee camps. He traveled by lying under seats on trains, and he sifted through garbage to eat.
In 1948, at 16, Montview made his way through France to what would become Israel. He joined the Sarid kibbutz and absorbed the education, but, he said, "They only taught enough to be a better farmer."
He joined the Israeli army and, at age 21, took medic training. Later, Montview trained as a draftsman in Beersheba, where he also served as a youth instructor, educating gang members, getting them jobs and showing them education as the path to self-esteem.
Montview emigrated to New York in 1963 and, in 1974, earned a degree in computer engineering at City College of New York with almost straight As. He landed a job with Interstate Electronics in Orange County and took classes to advance his skills. At the invitation of a sixth-grade teacher he'd met, Montview spoke to students about the Holocaust. It let to other talks through the Orange County Youth Motivation Task Force, an organization that encourages education.
"Many of them were from dysfunctional families, intermittently hungry or homeless, discouraged," said Montview. "I told them of my life, and never giving up, and that education worked for me. I'm so glad some took it to heart."
Montview retired in 1990, but continued speaking, even after bypass surgery in 1999. He enrolled at Cypress College to take computer and writing classes, and in 2006, became a student at Cal State Fullerton.
"As long as I live, I will learn," Montview said, "and I will have ideas."
Media Contact:
Russ Hudson, Public Affairs, 657-278-4007, rhudson@fullerton.edu