Mission and Goals Initiatives
Campus Funds Efforts to Attract External Funding
January 19, 2010
President Milton A. Gordon recently awarded more than $600,000 in mission and goals initiatives for the 2009-10 year. This year's initiatives were geared to attract external funding, such as seed money to fund pilot research or creative projects, research or creative fellowships and grant proposal writing support.
Among those initiatives awarded funding: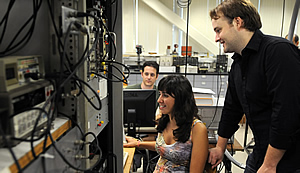 • Building CSUF Research Infrastructure — $55,000
Dorota Huizinga, associate vice president for academic programs and research, has proposed a Professor Helps Professor program to provide stipends for senior faculty experienced in grant writing to assist junior faculty in proposal development. The initiative would fund junior and senior faculty travel to external funding agencies such as the national Institutes of Health, National Science Foundation and Department of Education, and to Grant Resource Center workshops in Washington, D.C., in order to develop better understanding of funding opportunities and strengthen relationships with key personnel. The initiative would also fund release time so competitively selected junior faculty could develop research ideas and create a research plan for external funding.
• Center for Research on Educational Access and Leadership — $50,000
The initiative will support the development of a new College of Education center that has partnered with the four community college districts and local schools to address educational challenges such as the achievement gap and student success in college. Directed by Dawn Person, professor of educational leadership, the center will provide service through subcontracts for assessment and evaluation, educational programs, research and grants. Funding will be used for grant writing initiatives and travel, to establish relationships with funding agency representatives and educational partners; hire a consultant to assist with grant writing; offer educational programs based on current research and scholarship across disciplines specific to education and learning; and develop global education projects with universities in South Africa and Russia, according to Person.
• Increasing External Funding Success — $45,000
Jeannie Kim-Han, Center for Internships & Community Engagement director, requested funding to help faculty members develop high quality proposals that meet grant funding requirements. The funding also will assist the university in seeking grant funding in "hot topic areas" such as sustainability/energy, labor and aging, where there have been increases in federal grant funding, as well as other sources of federal funding through agencies that the university has traditionally not pursued.
• Office of Grants and Contracts Strategies for Increasing Extramural Funding at CSUF — $40,500
Through a variety of approaches, including seed grants; training in business plan creation, proposal development & marketing; special awards for proposal implementation and resubmission; and stipends to encourage faculty participation, initiative funding will expand the efforts of the Office of Grants and Contracts to stimulate the aggressive pursuit of external funds and revenue generation activities across the university at large.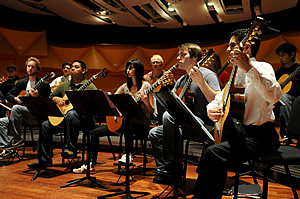 • College of the Arts Fundraiser With Barbara Cook — $40,500
The College of the Arts will utilize initiative funds to bring Tony Award-winner Barbara Cook to campus for a concert fundraiser. Known as "Broadway's favorite ingénue" during the heyday of the Broadway musical, she starred as Aido Annie in "Oklahoma!" and Marian the librarian in "The Music Man," among numerous other roles. Regarded by many as a national treasure, the 82-year-old Cook is expected to draw new audience members to the Clayes Performing Arts Center. Proceeds from the concert would be added to the center's endowment. The gala will involve participation by Theatre and Dance Department faculty members and students.
• California Assistive Technology Laboratory at Fullerton - $35,000
The College of Engineering and Computer Science and the university's Institute of Gerontology propose a collaborative research, teaching and product development center for assistive technology. Called CATLab, it would provide a resource for innovation grounded in engineering expertise and could develop prototype products that would be tested in ECS facilities then tested further by older adults through the institute. CATLab would assist new business growth in assistive technology and provide specialized education and training to students, as well as pursue cutting-edge technology development.
• Building a More Effective Corporate and Foundation Relations Program — $32,000
Central Development and Major Events have raised millions of dollars with the help of a Corporate and Foundation Relations director responsible for developing and coordinating the submission of multiple proposals for grants to benefit a wide range of programs and services. Because there are increasing time demands, this request will fund a specialized consultant (grant writer) who will be employed on a temporary, limited basis to develop conceptual write-ups of larger projects and initiatives that will forum the basis for individual proposals to specific funders.
• CHHD Applied Grants Workshop Series — $30,000
The College of Health and Human Development will produce three grant workshops for its faculty members who are interested in developing and submitting grants. The half-day workshops will take faculty members through the process of writing a grant to be submitted to a foundation. The workshops are designed for those who want to write grants, but have little experience doing so with the ultimate goal of landing more grant awards and launching research careers.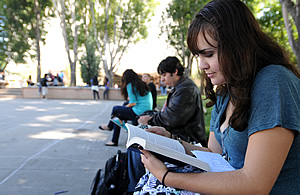 • Supplemental Instruction Workshops in Mathematics — $29,400
A pilot program offering supplemental instruction in entry-level math courses will be expanded with initiative funding. Martin Bonsangue and Paul DeLand, professors of mathematics, report that 70 science, technology, engineering and mathematics majors receiving the additional aid in the pilot last spring increased their grade-point averages and achieved higher grades than those who did not participate. "If even an additional 10 percent of students in college algebra, precalculus, calculus I and calculus II passed the courses as a result of SI participation, the result would be about 250 students who would not need to re-take the course," DeLand and Bonsangue reported. "This would account directly for about six to eight sections of math that would not need to be offered, a direct savings of $36,000 - $42,000 each semester."
• Securing External Support for the Center for Sustainability — $22,000
John Bock, professor of anthropology and coordinator of the environmental studies program, proposed funding environment-related and sustainability projects, research and fundraising for the university's new Center for Sustainability.
• Cal State Fullerton-South Africa Global Collaboration in Higher Education Leadership — $18,000
Christina Lunceford, assistant professor of educational leadership, requested seed money and faculty release time for the development of a grant proposal for a creative project that will develop academic relations and global collaboration between the department and academic and student affairs practitioners on campus and universities in South Africa. The collaboration would include professional development modules in higher education, student and staff exchanges and curriculum development in student affairs and higher education with a global perspective. The funding will enable this effort to move forward from the planning stage to full implementation with all participating entities benefiting from the collaboration, according to Lunceford.
• Undergraduate Training Grant — $19,000
Assistant professors of psychology Jennifer Trevitt and Jessie Peissig will receive a one-course release to focus their efforts on crafting a grant proposal to support student research. The grant award will be sought from either the National Science Foundation's Research Experiences for Undergraduates or National Institutes of Health's Academic Research and Enhancement Award programs.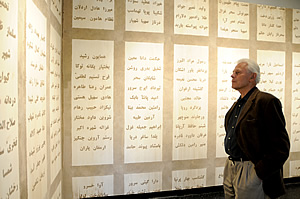 • Student Leadership and Multicultural Development Programs — $19,000
Student Leadership and Multicultural Development Programs will use initiative funding to support program evaluation efforts. Funding also would be applied to hiring a consultant to assist with research and grant writing, as well as developing goals, objectives, time lines and budgets for grant-writing opportunities. Funding also would be used to develop a global leadership certificate track to focus on global leadership styles and strategies.
• Effects of Behavioral Exercise and Health Education on Functional and Biomarker Indicators in Obese Women with Fibromyalgia — $15,994
C. Jessie Jones, professor of health science and director of the Fibromyalgia Research and Education Center; Dana Rutledge, professor of nursing; and Barbara Cherry, assistant professor of psychology, proposed a research study that aims to find ways to reduce health disparities in under-served populations suffering from chronic pain.
• Global Warming and Catastrophic Risk Management Initiative — $15,000
Carolyn Chang, professor of finance, and Weili Lu, associate professor and director of the Center for Insurance Studies, have proposed two pilot research projects and the development of a multidisciplinary faculty team to work on collaborative research projects related to catastrophic risk management. The work, the two faculty members say, will increase publications and grant opportunities, as well as improve academic ranking and increase external support for the campus. Since its establishment in 1998, the Center for Insurance Studies has developed three programs: actuary — funded initially by a Mission and Goals grant, insurance and insurance marketing/entrepreneurship with enrollment of more than 1,000 students; and the establishment of a $1.5 million endowment and more than $2 million in operation funds.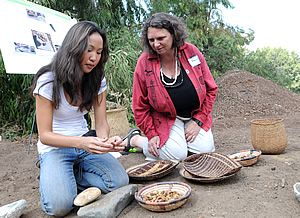 • Research Careers Preparatory Program: Enhancing Awareness and Building Skills for Undergraduates - $15,000
Initiative funds will be used to continue the Research Careers Preparatory Program, which recruits freshmen, sophomore and transfer students majoring in biological science, chemistry and biochemistry, and psychology, offering them a specialized one-year program of coursework, research and mentoring by a select faculty member. Such a program reflects the university's and College of Natural Sciences and Mathematics' support of such efforts, in order to ensure competitiveness when applying for federal grants.
• CSUF Irvine Campus Business Roundtable — $15,000
The Irvine Campus Business Roundtable, formed in fall 2009 as an initial dialogue with business leaders and Cal State Fullerton faculty informed the decision to explore possibilities for collaborative efforts to improve workplace literacy in the South Orange County region through the Community Learning and Literacy Center. With initiative funding, the CLLC will develop resources to assist local employers partnering with the roundtable on the development of seminars, workshops, classes and other approaches to literacy instruction for employees of small- and medium-sized companies. Outcomes will result in higher productivity for participating companies and increased respect for Cal State Fullerton's Irvine Campus resources.
• Implementation of a National Science Foundation Scholarship Program for College of Natural Science and Mathematics Students Interested in the Environmental Sciences — $14,000
Diane Knott, professor of geological sciences, and Sean E. Walker, associate professor of biological science, requested initiative funds for faculty release time to run a National Science Foundation-funded scholarship program for undergraduate students in geological and biological sciences.
• The Sales Leadership Center's Quest for National Leadership — $14,000
In its first year of operation, the newest of Mihaylo College of Business's centers was able to offer a number of programs and establish a number of corporate and 'in-kind' sponsors. With the initiative funding, director Christopher Kondo hopes to secure additional corporate sponsors to underwrite future activities, including a national sales competition, establishment of a sales management program, additional classes and sales-related research.
• CSUF Palm Springs Student Film Festival — $13,300
The Radio-TV-Film Department will use funding to underwrite its first student film festival in Palm Springs. The festival will showcase student work, highlight faculty members and alumni, serve as a catalyst for partnerships with public and private organizations and raise funds. Palm Springs' annual film festival has a built-in audience of retired actors and film aficionados. The department believes this will expand attendance beyond the students, faculty and alumni who are expected to attend.
• Effects of Changes in Environmental Conditions on the Performance of Native and Non-Native Oysters in Newport Bay, CA - $12,000
Jennifer Burnaford, assistant professor of biological science, proposes to build models of how climate change will affect marine life by using the California native oyster, Ostrea lurida, and the Japanese invasive oyster, Crassostrea gigas, as examples. Both are established in Newport Bay but have differing tolerances for changing oxygen levels, body temperatures and salinity, as well as to chlorophyll (which approximates food abundance, since oysters feed on plankton by filtering the water).
• Hit the Ground Running: A Professional Showcase for BFA students — $10,500
One needs to "hit the ground running" in order to make headway against a tide of challenges that face a performer trying to break in to show business. The number of actors exceeds the number of available roles so emerging performers need to find ways to stand out and be seen as more than just another face in the crowd. Since the introduction of a bachelor of fine arts degree in musical theatre in 1998, ten alumni have performed in Broadway shows, and Cal State Fullerton students regularly dominate the American College Theatre Festival's national acting competition. The "Hit the Ground Running" project — proposed by John Short and Mitch Hanlon of Theatre and Dance — will create a capstone program to allow BFA students to "show their stuff" in a showcase — an hour-long program highlighting their strengths for invited audiences industry professionals. The grant supports the production of two separate shows, one geared for New York, the other for Hollywood.
• Student Activities Alumni Data Integrity Project — $10,000
A joint proposal of Student Affairs, University Development and Alumni Relations, this initiative will enable the campus to better track alumni and develop database coding for more targeted fundraising appeals and programs to specific groups of individuals. Alumni and students will be able to self-identify the groups they would most like to be affiliated with and, if this program is successful, it could be adapted to develop a comprehensive program for parents of students.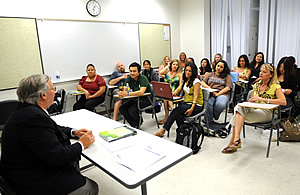 • University Learning Center Research Assistant — $9,000
The American Recovery and Reinvestment Act of 2009 provides for millions of dollars in grants to higher education institutions, and additional funding is available from other sources, such as the Lumina Foundation. However, preparing successful grant applications is a labor-intensive activity requiring the investment of hours of specialized research. In order to serve students' need for academic support, Frances Zareh-Smith sought initiative funds that would enable the University Learning Center to hire a graduate assistant to research grant opportunities and assist the center director in writing grant proposals.
• CSUF Honors Programs Minority Recruitment — $8,350
University Honors and the Business Honors programs seek to increase the number of qualified minority students involved in the campus honors programs through a two-fold effort: the hiring of a minority recruitment specialist to recruit and help retain minority students in the honors programs, which would be underwritten by the Hispanic Association of Colleges and Universities for a period of one to three years; and the establishment of a scholarship program in which the scholarships would be awarded on the basis of achievement, potential and need.
• A Different Shade of Orange: Civil War to Civil Rights - $8,000
Benjamin Cawthra, assistant professor of history, and students will acquire materials with the funds for "A Different Shade of Orange: Civil War to Civil Rights," a display in the Fullerton Arboretum's Orange County Agricultural and Nikkei Heritage Museum. The display, based on a university's Center for Oral and Public History Project, will examine the African-American experience in Orange County and emphasize the role of California in the political crisis over slavery in the 1850s and 1860s, and the experience of African Americans in the county between 1930 and 1980.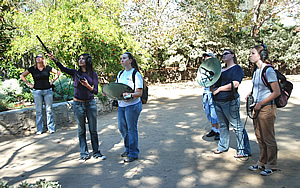 • Tucker Wildlife Sanctuary - $7,500
Site director Marcella Gilchrist plans to use the initiative to enhance and continue collaborative efforts to increase the educational value of Tucker through support from, and partnerships with, the Southern California Wetlands Recovery Project, Disney, Orange County Community Foundation, Laguna Koi Ponds, Lowe's, Kinkos, Ralphs and others. The funding will allow Tucker to develop more classes and lecture series, as well as enhance guided tours with informational signage. Tucker draws thousands of K-12 students for educational tours, as well as classes from campus and nine other colleges to study flora and fauna. It attracts about 15,000 public visitors a year.
• Consultant for Title V Co-operative Grant Competition — $7,000
Kandy Mink Salas, dean of students, received funding to hire a consultant to assist with writing a proposal for the Federal Title V Co-operative Grant Competition. Work on the proposal begins this spring, and is expected to be submitted next year. The consultant will assist with the formation of the grant, descriptions of the grant-funded programs and services, and the technical aspects of the grant submission, including goals and objectives writing and budget detail. The purpose of the grant is to create a partnership between Cal State Fullerton and four local community colleges to create the Student Leadership Institute Network. This network is intended to improve the transfer rates among Latino students from the community colleges to CSUF, as well as the retention and graduation rates of these students at CSUF. The network will accomplish this by creating or strengthening a Student Leadership Institute program on each campus, focusing on successful transfer to a four-year university and college success skills.
• The Distributional Aspects of Inflation: Forecastability and Dynamics Asymmetry — $7,000
Inflation in the United States has been hard to predict over the last 25 years, and the current consensus among economists seems to suggest that "the likelihood of accurately forecasting inflation using modern forecasting techniques is no better than a coin flip." This funded project, submitted by Dawit Zerom, associate professor of information systems and decision sciences, will explore whether leading indicators of economic activity are useful in predicting various aspects of the distribution of future inflation. The approach considers several conditional percentiles of future inflation, and by doing so, offers more flexibility than conventional models in capturing the possible role of macroeconomic indicators in predicting the different parts of the inflation distribution. The project findings will be of interest to policymakers seeking to improve their ability to accurately forecast inflation.
• Service with an "e-smile": Electronically mediated service encounters — $5,400
Exceptional service, a key determinant of customer satisfaction and company success. With the advent of Internet, customer relationship management has moved online through instant messaging/live chat functionality, such as chats with live customer representatives on issues such as billing, flight reservation, and seat assignment. Online customer support services are efficient means for reducing customer support costs, increasing customer satisfaction and providing 24/7 access. "Service with a smile" has long been a management mantra. With web-based customer support services, the contact person needs to e-smile. Ofir Turel, associate professor of information systems and decision sciences, has proposed using both qualitative and quantitative approaches, to examine how electronically mediated friendliness and its authenticity are being assessed, what affects these judgments, and what the behavioral consequences of consumer or citizen experiences with these services are. The study findings will be used to develop innovative customer and citizen support practices.
• Chicana and Chicano Resource Center Oral and Visual History Collection Preservation Project — $5,000
Barbara Miller, Chicana and Chicano Resource Center librarian; Raymond Rast, assistant professor of history; and Liz Suarez, center coordinator and lecturer in elementary and bilingual education, propose launching a project to identify the hundreds of audio and video tapes in the university's library featuring notable Latino leaders. Among those being identified: interviews of the late Cesar Chavez, founder of the United Farm Workers, from his visits to campus in 1972, 1976 and 1992.
• Titan Connection Campaign Manager and Advanced Resume Writing Module — $4,500
James Case, director of the Career Center, proposed purchase of two modules for use on the online Titan Connection system, which supports all Career Center operations. The modules would enable the Career Center to expand employer participation in revenue-generating events, generating approximately $10,000 additional funds than previously and increasing to $30,000 in additional revenue for 2011-12.
• Debate Team/Pre-Law Society Outreach — $2,500
Submitted through Human Communication Studies, this funding will support the university's pre-law society and debate team by providing financial or mentoring assistance. Since the university has more than 2,500 graduates licensed to practice law in the United States, and lawyers understand the importance of public speaking/debate, this funding will help support a pre-law society and the debate team in developing a database of likely supporters of Cal State Fullerton's debate team.