For Beauty and Sustenance
University, High School Students Collaborate on Research Projects
August 17, 2010
By Russ L. Hudson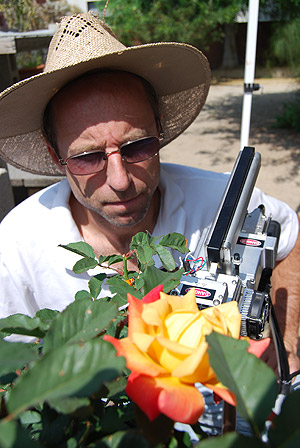 Matthew Sutton collects data from an infrared photosynthesis monitor on a Rio Samba rose bush.
Home gardeners may have rarely wondered about how much water their roses need or if dust on the leaves of fruit trees affect fruit production, but two Cal State Fullerton graduate students and their high school student assistants have focused their summer efforts on finding the answers.
Biology graduate student Miguel Macias (B.S. biological science '10) is working with Troy High School junior Iris Zhou on how dust settling on leaves affects photosynthesis. Macias and Zhou split their time between the university greenhouse — where they use equipment to monitor leaves' photosynthetic activity — and the lab, where they analyze the data. They focus on citrus trees, Macias said, because frequent dust storms in the Mojave Desert push dust for miles, coating citrus and other fruit trees in commercial groves.
The duo are working under the direction of Darren Sandquist, associate professor of biological science. Zhou will use her research in the Siemens Foundation's 2010 Siemens Competition in Math, Science and Technology for high school students.
Fellow biology graduate student Matthew Sutton is collaborating with Raquel Eloza, a June graduate from Lawndale Environmental Charter High School, testing which of three rose varieties common in gardens and landscaping require the least amount of water: Rio Samba, Mister Lincoln or Double Delight.
Their research is fueled by a $2,500 grant from the Rose Society of Saddleback Mountain, an affiliate of the American Rose Society that consults with gardeners and landscapers on which plants, trees and shrubs to use, and low water use is a concern. Once their research is complete, Eloza will present the team's results to the Society.
These efforts exemplify Cal State Fullerton's focus on science, technology, engineering and mathematics, which is one of several campuswide initiatives for the 2010-2011 academic year.