Digging the Past
CSUF Teaches Archaeology in the Community
August 17, 2010
By Mimi Ko Cruz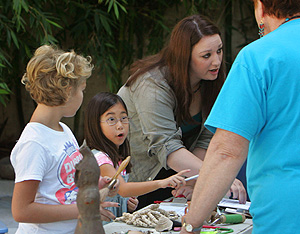 From left: "Punky" Barker, Natalie Osako, Cal State Fullerton student Holly Eeg and Cynthia Callard, senior art director at Bowers Museum participate in an archaeology lesson on ancient Mexican culture. Photo by Karen Tapia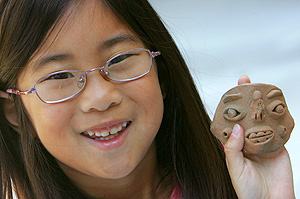 Natalie Osako holds an artifact found in a simulated archaeological dig site at Bowers Museum's Kidseum. Photo by Karen Tapia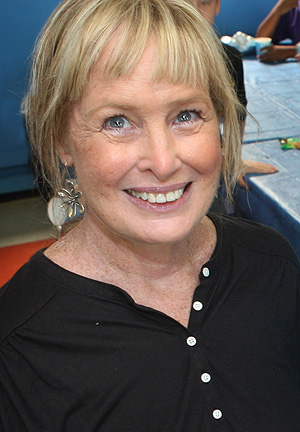 Cameron Walker
Her eyes widening with excitement, 6-year-old Natalie Osaka carefully dug in a 4-foot-deep sand pit, pulled out an artifact and rushed it over to archaeologist Cameron Walker.
"These are the backbones of fish," Walker, Cal State Fullerton lecturer of anthropology, told Osaka during a recent summer camp at Bowers Museum's Kidseum in Santa Ana. "Carefully clean it off and record what you found."
The girl and fellow campers were taking part in a simulated excavation exercise as part of a lesson on archaeology techniques. They also learned about the Aztecs, Mayans and sun gods that week, visiting the Bowers Pre-Columbian Gallery, creating a Mogollan wedding vase, petroglyphs, sand paintings, a Mimbres Pot and making Aztec cookies and Platanos Machos.
The lesson plans were researched by Cal State Fullerton anthropology majors Jamie Gray and Holly Eeg, who helped teach the Kidseum campers.
Eeg, Gray and other CSUF students joined Walker at the Kidseum for seven weeks, delivering lessons on different ancient civilizations each week, as part of a partnership between the university, Bowers and the Archaeological Institute of America. Some of the students received internship credit and others served as volunteers.
Walker said a similar collaboration was created as a two-week only program 14 years ago. Today, she said, the partners are planning on continuing to collaborate throughout the year, creating learning opportunities for the community and for CSUF's students.
"We are reestablishing our ties and working on expanding," Walker said. "We want our students to research and learn how to teach archaeology and how to be museum docents."
The aim is to enrich the museum's programs while providing educational experiences, said Cynthia Callard, Bowers senior art director. "We want to be able to offer more public lectures, after-school programs and weekend activities."
The partnership with Bowers reflects Cal State Fullerton's heightened emphasis on preserving Orange County's archaeological and paleontological collection — one of the university's initiatives for 2010-11.
When Eeg, 21, was a child, she said, she didn't have opportunities to learn about archaeology such as Bowers' summer camps. "I didn't have these kinds of learning experiences," she said.
"Kids need to learn that we need to preserve and protect our antiquities," Eeg said. "This is a great way to learn."
Added Gray: "I'm learning a lot about how to teach about our past through these educational activities and the kids are recognizing how we can learn from the past."
Indeed, Osaka agreed.
"It's important and it's fun," she said.