Help for a Native Californian
Biologist Takes Leadership in Building Habitat for Struggling Oyster Species
August 10, 2010
By Russ L. Hudson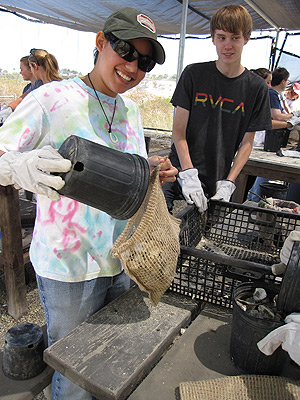 Community volunteer Lauren Bauers, left, and Cole Redfearn of Corona del Mar High School empty a bin of oyster shells into jute bags that will become part of the new reef.
California's only native oyster, made rare by over-harvesting, damaged habitat and pollution, is getting a new lease on life in Newport Bay, thanks to the leadership of Danielle Zacherl, assistant professor of biological science.
Zacherl, who has spent a number of years studying the Ostrea lurida, recently received an $18,000 Orange County Parks grant to support building and monitoring oyster habitat in the mudflats near Castaways Park. Cal State Fullerton students, as well as community volunteers, helped place 3 ½ tons of old oyster shells near the low-tide line to form reefs in which the oyster's larvae can attach.
For two years, Zacherl and her students will monitor the new reefs for O. lurida larvae and other marine life. They also will note changes in water quality since oysters clean water as they siphon it to consume algae. The new reefs will stabilize the sea floor and provide habitat.
"With all this assistance, native oysters might make a comeback on our coastline," Zacherl said.
Media Contacts:
Danielle Zacherl, 657-278-7510 or dzacherl@fullerton.edu
Russ L. Hudson, Public Affairs, 657-278-4007 or rhudson@fullertonedu