Arts Central
Santa Ana Teens Attend Inaugural Art Camp
August 10, 2010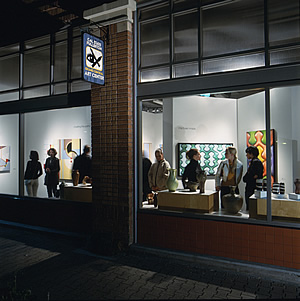 Grand Central Art Center
The Grand Central Art Center and Godinez Fundamental High School in Santa Ana have partnered to present Arts Central - a weeklong series of free art classes for high school students. The camp continues through Saturday, Aug. 14 and is attended by 30 students who had been nominated by their high school art teachers.
The classes, taught by center staff and Cal State Fullerton master of fine arts students who live at Grand Central, include computer art and graphic design; performance art; acting and monologue writing, sculpture and three-dimensional forms; and digital photography.
In addition to studio work, every day of class will end with guest artists speaking to the students about their work and professional experiences. Guest lecturers include, Robot Boy sculptors David Brokaw and Preston Daniels, former artist-in-residence Amy Caterina, Chris Bradley and Jason Maloney of Orange County action sports brand Hurley International. Hurley is a camp partner, providing all participants with t-shirts and inviting students and staff to their facility for tours and talks one of the days.
After the camp all young artists are invited to attend the exhibition "The Comeback Kids: Emerging Santa Ana Artists" in Grand Central Art Center's Project Room. The exhibit will feature artwork produced at the camp, as well as art from Imagination Celebration, GCAC's partnership with Arts Orange County. "The Comeback Kids" opens Sept. 4.
The Grand Central Arts Center is located at 125 N. Broadway, Santa Ana, approximately 10 miles south of the Cal State Fullerton campus. It is open Tuesdays through Thursdays and Sundays from 11 a.m. to 4 p.m. and 11 a.m. to 7 p.m. Friday and Saturdays. For more inormaiton, call 714-567-7233 or visit www.grandcentralartcenter.com.
Media Contacts:
Krystal Glasman, Grand Central Public Relations director, at grandcentral@fullerton.edu or 714-567-7235
Alyssa Cordova, education coordinator, alyssacordova@csu.fullerton.edu, 714-567-7235