Making History
Alumna Is One of Four Women Currently in Space
April 13, 2010
By Russ L. Hudson
Tracy Caldwell Dyson (B.A. chemistry '93) became part of space history three days into her 5 ½-month tour as a crew member of the orbiting International Space Station. She became one of four women serving in space at the same time.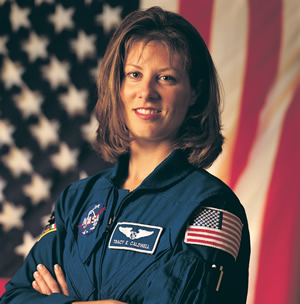 Tracy Caldwell Dyson
Caldwell Dyson docked with the ISS April 4 and three days later, welcomed aboard Japanese astronaut Naoko Yamazaki and American astronauts Stephanie D. Wilson and Dorothy M. Metcalf-Lindenburger — crew members aboard the U.S. Space Shuttle Discovery along with shuttle crew members James P. Dutton jr., Rick Mastracchio, Clayton Anderson and Alan Poindexter. Discovery will stay at the International Space Station for 13 days.
Caldwell Dyson and Wilson are veteran space travelers: Caldwell Dyson traveled to the ISS in August 2007 to deliver supplies and a truss aboard the shuttle Endeavour and Wilson flew to ISS in July 2006 to test new equipment on the ISS and deliver supplies and in October 2007 to take up a replacement ISS crew member and bring one back to Earth on the return trip, as well as delivering a module, Harmony, for scientific research. Wilson was on the shuttle Discovery both times.
Another first is having two astronauts from the Japanese Aerospace Exploration Agency on the ISS at the same time, Yamazaki and ISS crew member Soichi Noguchi, who arrived on the station in December.
Discovery on this trip delivered the multipurpose logistics module Leonardo to the ISS, filled with 8 ½ tons of supplies, stowage platforms and racks.
On April 9, Caldwell assisted Discovery crew members Anderson and Mastracchio prepare for a 6 ½- hour space walk to replace a gyroscope assembly and to ready an ammonia tank for replacement. Ammonia serves as the ISS's coolant.
Related stories:
Tracy Caldwell Dyson About to Launch
Caldwell Returns From Successful Mission